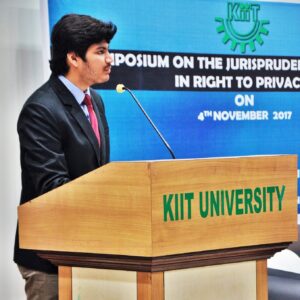 Mr. Saunak Kumar Rajguru, an avid Mooter and a Bar Council of India Trust Scholar, is declaring a one of its kind online course that will enhance your Mooting skills and will prepare you to excel in all of your mooting endeavors.
About Mr. Saunak Rajguru
Mr. Saunak Rajguru is a Constitutional Law Honors. Student and is entering his Final year of Legal Studies. His team has won the 33rd Bar Council of India Moot, 2017 along with the Best Memorial for Round – 3, and he bagged for himself the Best Male Advocate Award in the country's premiere mooting tournament. Apart from this, he has won the RGSOIPL, IIT KGP Moot, UFYLC Jaipur's National Moot (Ranka) and the All India Law School Meet's Moot, Bhubaneswar and has also bagged the Best Advocate Tag in each of the above-mentioned competitions. He has also bagged the Best Speaker and Best Memorial tags in the 7th MS Ramaiah Moot and 3rd NCU Environmental Law Moot, where his team finished as Semi-Finalists. He was declared Runners-Up in the 4th UPES National Trial Advocacy and has been a Quarter-Finalist in the 22nd edition of the Stetson Moot to name just a few.
About the Course
The Course will be for a period of 15 days. Upon the successful registration and payment, the candidate shall receive all kinds of Course materials on their registered mail id. This shall include a brief on the basics of Mooting, a complete analysis of the Memorial's structure, a detailed overview on the Jurisdiction and Maintainability under all relevant provisions, a thorough analysis regarding the importance of the structure of the Arguments Advanced/Pleadings and various other key specifics of Mooting. It is to be noted that a few Sample Memorials will be provided for your better understanding and access will be provided to videos prepared by Mr. Rajguru pertaining to specific aspects of Mooting.
Each registered candidate on the penultimate day of the Course will be provided with a separate legal issue and will be given a duration of 36 hours to research and submit a draft which will be the basis of evaluation. On successful completion of the Course, an E-Certificate will be provided within 1 week from the date of the completion of the Course.
The Course is designed by keeping in mind the experiences of at least 13 National Level Moots done by Mr. Rajguru. Since he has done all kinds of National Moots and has tasted it all, his analysis in terms of the X-Factors his team had that made them win the moot or the lack of a particular set of skill or requirement that resulted in their loss at a crucial juncture, are all taken into account while preparing this Course.
Duration of the Course
As already mentioned, the Course will be a 15-day long course and candidates can register for either of the following slots:-
| | | |
| --- | --- | --- |
| DURATION | LAST DATE TO | LAST DATE TO |
| | APPLY | CLAIM EARLY BIRD |
| A. 1st May -15th May, 2018 – | 28th April, 2018 | 21st April, 2018 |
| | | |
| B. 16th May- 30th May, 2018- | 13th May, 2018 | 6th May, 2018 |
| | | |
| | | |
| --- | --- | --- |
| C. 1st June- 15th June, 2018 | 28th May, 2018 | 21st May, 2018 |
| | | |
| D. 16th June- 30th June, 2018 | 13th June, 2018 | 6th June, 2018 |
| | | |
| E. 1st July – 15th July, 2018 | 28th June, 2018 | 21st June, 2018 |
| | | |
| F. 16th July- 30th July, 2018 | 13th July, 2018 | 6th July, 2018 |
| | | |
Application Procedure
The process is very simple:-
You are required to fill this Google Form –https://docs.google.com/forms/d/e/1FAIpQLSeUIpF0dGDM48b-Rt9PYtq2sjYdg2YJhKQEno2P2wnAL39dtQ/viewform
You can proceed to make a Payment of INR 700 /- only [There is an early bird offer too! Register 7 days before the last date mentioned for each slot and pay only INR 500] on the following account:-
NAME- SAUNAK KUMAR RAJGURU
BRANCH- ANDHRA BANK
ACC. NO- 004210100046823
IFSC- ANDB0000042
Send the payment receipt at saunakrajguru3@gmail.com and you shall receive a confirmation mail from my side within 24 hours.
For any queries, you may directly contact Mr. Rajguru either on the above-mentioned mail id or drop him a text on his WhatsApp number [7377464252].
Do not forget to mention Legge Rhythms in the reference column while filling up the form!