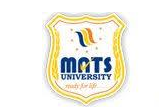 The MATS Law School was established in the year 2009 with the aim of providing inter-disciplinary teaching and research opportunities. The Law school offers undergraduate, postgraduate and doctoral programs in the field of law.
The MATS Law School proudly announces its Sixth edition of 6th Mangilal Pagaria Memorial National Moot Court Competition, 2019, which is scheduled to take place from April 11, 2019, to April 12, 2019, at MATS Law School, MATS University, Raipur.
This competition was conceived with the aim of promoting & developing skills about the procedure followed by Courts and testing the knowledge of the law students across the nation.
With this edition of ours we invite teams from reputed university/colleges/institutions to participate and gain an enriching experience from our trial advocacy competition.
Event Date
Saturday, 11th April & Sunday, 12th April, 2019. 
Venue
Mats Law School Mats University, Raipur, Chhattisgarh
Awards
Winning team- Rs.10,000 Trophy & Certificates
First Runner Up Team- Rs.6,000 Trophy & Certificates
Best Speaker- Rs.3,000 Trophy & Certificates
Best Memorial- Rs.3,000 Trophy & Certificates
Participation Certificate to all registered Participant
Registration
For registering for competition, the registration form must be submitted online at mooting@matsuniversity.ac.in  on or before March 15, 2019.
Registration Form completely filled and duly signed by the Head of the participating University/ Schools/ Faculties/ Institute along with a demand draft or online payment transaction record for Rs. 3600/- (with accommodation) or Rs. 2500/- (without accommodation) should reach on time.
The slots will be filled in first-cum-first-serve basis on the receipt of soft copy of registration form.
Important Dates
Confirmation of Participation Deadline (online): March 15, 2019
Receiving of Registration form and NEFT/DD submission record: March 20, 2019
Brief (Memorial) Submission Deadline (soft copy): March 31, 2019
Brief Submission Deadline (6 sets print copies from both sides) deadline: April 02, 2019
Travel Plan submission deadline (in softcopy): April 07, 2019
Draw of Lots, Exchange of Memorial, Preliminary rounds: April 11, 2019
Semifinal, Final and Valedictory Session: April 12, 2019
Contact
Write to us at: mooting@matsuniversity.ac.in
Faculty Coordinators
Prashant Kumar, Assistant Professor, 7903661235
Jaskirat Kaur, Assistant Professor, 8447794501
Avadhut Joshi, Assistant Professor , 9431550218
Student Coordinators
Chandni Hariramani, 5th Year BA LLB, 9131877272
Anurag Gupta, 4th Year BBA LLB, 7049597879
Deepanshu Kushram, 4th Year BBA LLB, 9630338444
Manali Shrivastav, 3rd Year BBA LLB, 7000355160
Links
Moot Proposition (Normal Font)