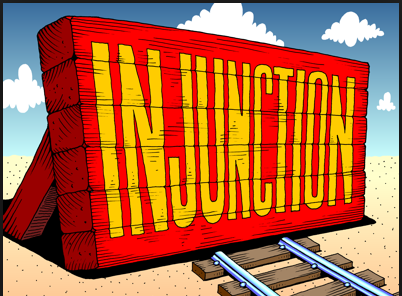 A DECREE OF INJUNCTION CAN BE EXECUTED AGAINST LEGAL REPRESENTATIVE OF DECEASED JUDGMENT- DEBTOR: SUPREME COURT
By: Shriya Paruthi
Injunction is an act that the court regards as essential of justice or the it prohibits an act that is deemed to be contrary to good conscience. It is a remedy, reserved for special circumstances in which the temporary preservation of the status is necessary.[1]
The Supreme Court in the case of Prabhakara Adiga v. Gowri[2] held that a decree for injunction can also be executed against legal representative of the deceased judgment-debtor according to the specific provision of the Code of Civil Procedure.[3] Section 50 of the Code of Civil Procedure deal with legal representative which states the following:
Where a judgment-debtor dies before the decree has been fully satisfied, the holder of the decree may apply to the court which passed it to execute the same against the legal representative of the deceased.
Where the decree is executed against such legal representative, he shall be liable only to the extent of the property of the deceased which has come to his hands and has not been duly disposed of and for the purpose of ascertaining such liability the Court executing the decree may of its own motion or on the application of the decree-holder, compel such legal representative to produce such accounts as it thinks fit.[4]
The bench was comprised of the Justice Arun Mishra and Amitava Roy and said that it would be against the public policy to ask the decree-holder to litigate once over again against the legal representative of the judgment-debtor when the cause and injunction survives. The Karnataka High Court held that the decree for perment cannot be enforced against the legal heirs of judgment-debtor. They also said that the maxim actio personalis moritur cum persona means a personal action dies with the person. In the case Girijanandini Devi v. Bijendre Narain Choudhar[5]said that the maxim is limited to class of action like action for damages, assault and many more personal injuries not causing the death of the person and in the other actions where after the death of the party the relief granted could not be enjoyed or granting it would be nugatory.[6]
The bench order was that the legal representatives of decree holder can execute decree for permanent injunction relating to property which is an ancestral. In this situation it would be open to decree holder to execute decree against successor of interest of judgment-debtor.[7]
[1] The Free Dictionary by Farlex, Injunction, (21 February, 2017, 12:00 pm) http://legal-dictionary.thefreedictionary.com/injunction.
[2] Civil Appeal no. 3007-3008 of SC.
[3] Ashok KM, Decree of Injunction can be executed against Legal representative of Deceased Judgment- Debtor: Supreme Court, (21 February,2017, 12:05 pm) http://www.livelaw.in/decree-injunction-can-executed-legal-representatives-deceased-judgment-debtor-sc/.
[4] The Code of Civil Procedure, 1908.
[5] 1967 AIR 1124, 1967 SCR (1)93.
[6]  Supra at 3.
[7] Prabhakara Adiga v. Gowri and others Civil Appeal no 3007-3008 of 2017 https://drive.google.com/file/d/0BzXilfcxe7yuRTROck1COF8yQzA/view.