December 23, 2019
AEQUITAS '20 @Panjab University, Hoshiarpur [7th -9th Feb, 2020]: Register by Jan 27, 2020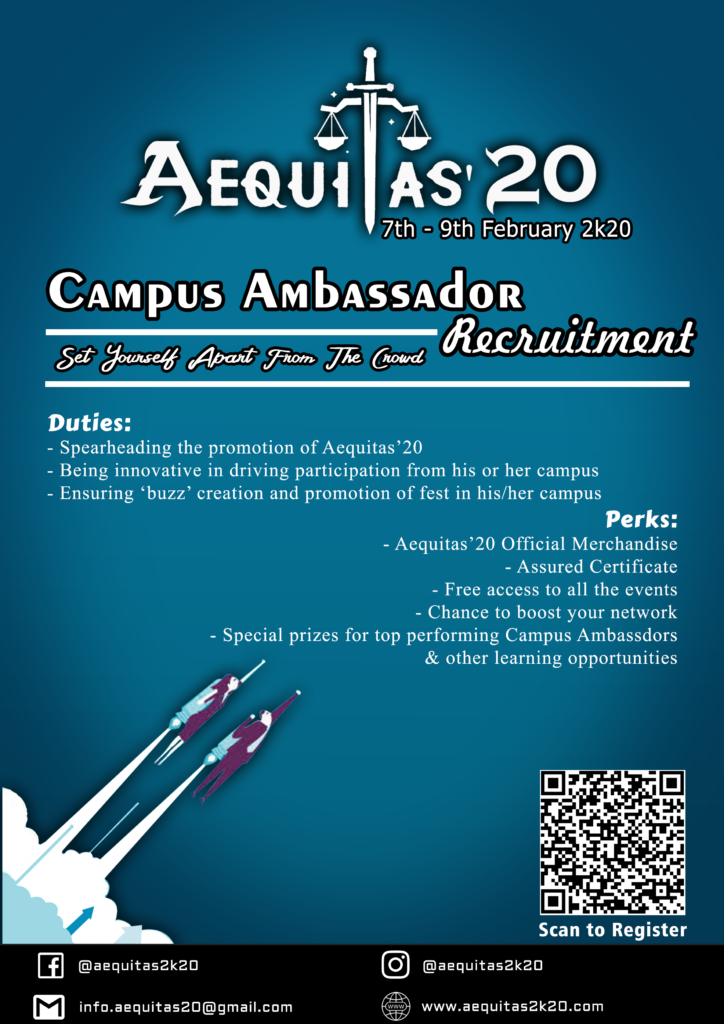 About PUSSGRC

With an aim to promote professional education in remote areas of Punjab, Panjab University established Swami Sarvanand Giri Regional Centre, Hoshiarpur in 2006. Since then, our campus has been producing around 100 well taught and qualified lawyers, judicial officers and jurists each year. The campus surrounded by forest areas, farms and peaceful foothills, provide a perfect balance of serenity and educative atmosphere. University Institute of Legal Studies, PUSSGRC keeps up with the everlasting doctrine of pursuing intellect, excellence, innovation and righteous assessment fosters curriculum, research and collaborations of the highest standards through a highly educated faculty.

About our Fest Aequitas'20

For the first time ever, Panjab University SSG Regional Centre, Hoshiarpur has initiated a remarkable collaboration of Law-cum-Cultural Competitions, wrapped up in an integrated three-day Fest Aequitas'20. It proposes to provide a platform for budding lawyers to hone their skills by competing in a galore of Law and Literary events. Strenuous days will then transpose into the saga of Cultural events where teams will have their eyes set on cash prizes worth up to Rs. 1.5 lacs. To invigorate participants, social media influencers and DJs will entertain till the day breaks in. Marking the final day with Valediction, we will have a panel of high achieving judges and lawyers to mentor us.
Panjab University SSG Regional Centre, Hoshiarpur is pleased to invite your esteemed institution to participate in Aequitas'20.

Following events are being organized in Aequitas'20:
• SSG National Moot Court Competition, 2020.
• SSG National Client Counseling Competition, 2020.
• SSG National Judgment Writing Competition, 2020
• Literary Events: GK Quiz & Diplomatic Swings
• Mock Punjab Vidhan Sabha
• Cultural Events: Talent Hunt, Nukkad Natak, Fashion Show, Bhangra Battle & many more fun events, besides an all-night DJ party.

Eligibility:
(i) Only law students from recognized Law Colleges/Universities may register for Moot Court, Client
Counseling and Judgment Writing.
(ii) School students may apply for Mock Punjab Vidhan Sabha only.
(iii) The teams will be registered on a 'first come first served' basis.

Mark your Calendar: 7th – 9th February 2020
Venue: Panjab University Swami Sarvanand Giri Regional Centre, Hoshiarpur (PUNJAB)
Registration Details: For Registration forms check out our Official Website.

Important Dates:
Last Date for General Registration: 27th January, 2020.
Last Date for Moot Court Registration: 20th January, 2020

For more details, check out our Official Website
Or email us at reg.aequitas20@gmail.com
Follow our Facebook Page and Instagram Page for more updates.
For Brochure, click here