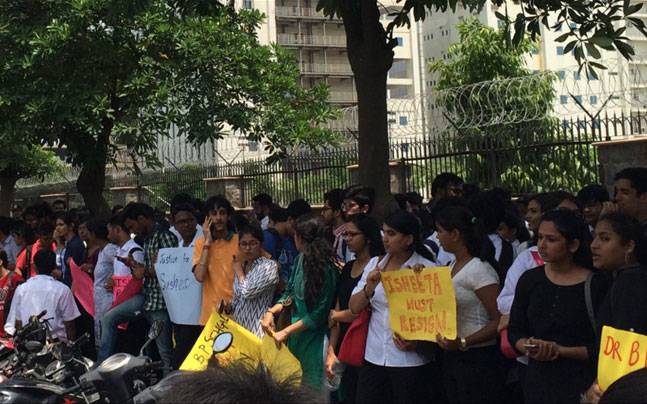 STUDENTS DEMAND RESIGNATION OF THE DIRECTOR AND DEFACTO DIRECTOR, MANAGEMENT FORCED BOTH OF THEM TO TAKE LEAVE TILL THE MATTER GET SOLVED
From a tweet from a student of Amity Noida- Teerth Waraich
Our college has a 75% attendance norm but it is completely arbitrary. They forgave attendance for Miss India contest but killed my friend.
This shows how arbitrary a college management can be. Some students get targeted by the management despite of their efforts for the college. Sushant have been a bright student and have always worked for the college. He was the head of Debating Society and had also won moot court competitions. He has always been active in organizing competitions in his college. Despite of his injury after an accident, he was seen actively in college on crutches.
Mehak Rohilla, Sushant's sister had earlier posted on Facebook,
"What kind of monsters are running this University.. My little one was begging for mercy.. And for what! To be able to sit for exams! Every academic year matters to student. And he put his heart and soul for this college.. He made sure people worked towards the college. Poor thing. He thought that would matter to them."
His father and uncle have also been vocal on social media about the same. Students and the alumni are coming together to fight for justice in hope that the truth comes to fore and Sushant gets justice.
The students have launched a protest against the arbitrary action and have demanded resignation of the Director Dr. Ashok Chauhan and Defacto Director Dr. Isheeta Rutabhasini. The sources reveal that both of them have been sent on forced leave by the management till the matter gets settled.
Legge Rhythms supports the students against this arbitrary action.
Litson K Stephen
Founder
Legge Rhythms