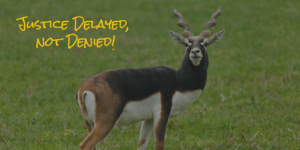 Putting a cap on the 20-year old case that began with a late night safari in the tourist city of Jodhpur in 1998, Chief Judicial Magistrate Dev Kumar Khatri pronounced a 201-page verdict against actor Salman Khan on April 6, 2018 (Thursday).
The actor was booked under Section 51 of the Wildlife Protection Act and is set to serve a 5-year jail term and a fine of Rs 10,000; his co-actors were acquitted on account of non-identification by eyewitness Poonamchand Bishnoi. On granting probation to the actor, the verdict says, "It is not justified to give Salman Khan the benefit of probation in view of the manner in which he hunted by shooting two innocent, moot blackbucks that come under the purview of the Wildlife Protection Act." The order was, however, deferred, with J. Ravinder Kumar Joshi asking for the records from previous cases judged by the rural and high court.
The conviction came as a shock to Salman's lawyers, who immediately applied for bail, hearing of which started at 10:52 AM today at the Jodphur Sessions Court. The bail order has been reserved until Saturday. Mahesh Bora, Salman's lawyer, argued upon the unreliability of the witness statements. Additionally, he said that the circumstances relied upon by the trial court were already discarded by the Rajasthan High Court. "He is paying the price of his celebrity status", says Bora, who filed a 51- page bail application against the judgment.
In the jail, Salman is kept in Barrack No. 2, next to self-proclaimed godman Asaram Bapu. While the actor's fans and the entire Bollywood fraternity spoke against the duration of the punishment, Khwaja Asif (Pakistan's Foreign Minister) tried to play the religion card, saying that the actor was 'sentenced because he's a minority'.
Even though animal rights activists across the country hailed the conviction, it will be interesting to see whether the actor, like in his previous cases, will be discharged of the allegations yet again.