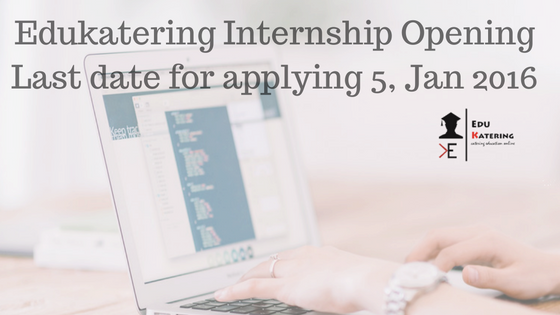 Edukatering is an online Portal giving Fine written Articles, Announcement, Legal news, Reviews on law schools, Internships, Legal affairs related to Startups, Social organizations, Guides and Much more yet to come. We are focused on persistent development in the field of law and helping different association by giving lawful news and lawful methodology. We are also helping people to establish their relationships All over the India. Edukatering is a one stop answer for all the lawful prerequisites and lawful matters. We have picked Media strategy for spreading law among the law Students, experts, and Other experts needing our Services. We are attempting to make an ecosystem which will be devoted to Innovation
We believe in "Becoming job giver, instead job seeker" concept.
 We started our research in FEB 2016, Edukatering is started with the vision to provide the students quality information and also providing the platform to the students to publish their views on various subjects which can also be helpful in enhancing the research skills and also advance their level in the world of media and publishing.
"Research is about engaging in a conversation with a brand." -Matthew Rhodes
We hereby invite application on the post of Edukatering Writer, Edukatering scientist, Edukatering columnist, Edukatering Campaigner, Edukatering Interns Captain, Edukatering trendsetter.
Job Profile : (Edukatering Writer)
As a Research Intern candidate you will be asked to write knowledge enrich articles which shall be regularly published on the website. The interns may be asked to write on specific topics which will ultimately lead to diversity in the topics.
Job profile: (Edukatering scientist):
Love working for the Law and law students? Good at finding new ways to learn and implementing them. Wanted to seek distinction from the other students and can impress large audience with your ideas? This position is for you. You shall be responsible for the research and development of the organizational structure and implementing various policies introduced by the top level managers. Good opportunity to be a manager.
Job Profile: (Edukatering columnist)
A reporter can impact a large audience with their charm and communication skills. If you have knowledge you can conquer the world. To conquer your world that is LAW where knowledge is the one and only key to success you should chose to be a Legal Reporter. You have to just provide all the latest News going on. Latest and viral news is our cup of tea. Are you having the potential to attract 1000s of people with your writing? Apply now!!
Job Profile: (Edukatering Campaigner)
Do you think you have the potential to reach maximum audience with just few efforts? Is marketing is your passion and you love talking to new people either the CEO or the students. As an Edukatering Campaigner you will be responsible for all the promotion to various levels and to various Websites. All the methods you would be applying to work on promotion shall form a part of responsibilities. Good opportunity to be a manager.
Job Profile: (Edukatering Interns captain)
As the name suggest you would be a captain of the Interns team. Your responsibilities would include handling this team with all the matters and problems they are facing. You would be working in direct contact with the Founding members and help in smooth functioning of the process. You shall be responsible for the execution of all the tasks. Good opportunity to be a manager.
Job Profile: (Edukatering Trendsetter)
Love spending time on social media and wanted to be productive? Yes you heard it right spoiling your time on liking others profile you can actually make a change in the world of social media. Just roll on your cuffs and start making brilliant growth hacking techniques on Facebook, Twitter and other social sites. This is the right opportunity to show up your skills and establish a brand with various hit and trial methods which really works.
Desired Skills :
Strong communication skill.
Excellent skill of research work.
Ability to meet deadlines.
Ability to take initiatives.
Ability to include keywords along with the research.
Write on challenging topics
Perform each task with the perfection. (Yeah we are looking for the perfectionists.)
Students with experience will be add-on to the chances For selection.
Benefits and perks for becoming Research Intern –
An "Award of appreciation" certificate.
Free gifts or discount coupons from our sponsors whatever they provide.
Scope of promotions to various interesting levels.
Brush up your skills with the on the work practice.
Be the first to grab the knowledge. (We provide material to our interns first).
Work in an organization having experience with many interns.
Letter of recommendation from the organization.
Your name on the team column.
Best interns shall be given all the details about how to setup your content blog and start earning from it.
You can also refer and earn From Edukatering course.
Eligibility :
Any student of Five Year or Three-year law course from institution recognized by Bar Council of India.
Applicant must be minimum in Second year of his graduation.
Excellent Communication Skill.
Proficiency in using MS Office.
For Edukatering columnist you must be updated with the legal news.
For Edukatering research Captain you might have worked with some of the names in the law content field.
For Edukatering Scientist You must have knowledge of all the procedures.
We want serious interns only if you are not sure about the post don't apply.
Application Process :
Students Interested may send their CV and Photograph to hr@edukatering.com  with subject containing the post for which you wanted to apply "Resume for Legal News Reporter" before 5, January, 2017. After selection candidate shall be receiving a confirmation letter along with telephonic interview if so required.
Feel free to contact for any clarification :
Tushar Verma
Founder
+91-9996-26-2680