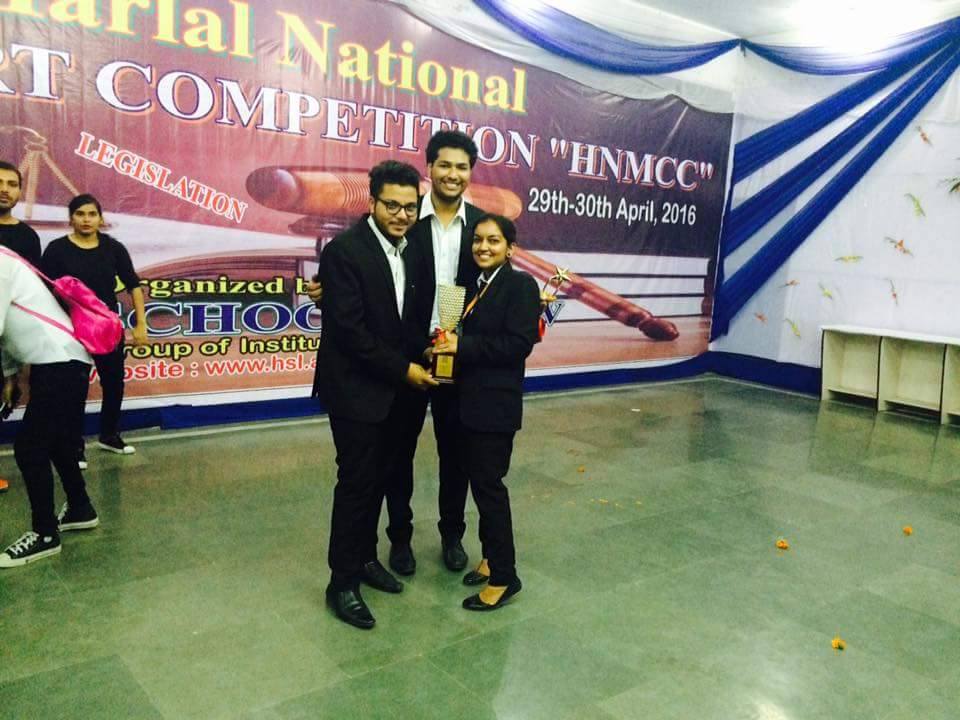 1st National Moot Court Competition organized by Harlal School of Law, Noida held on 29th – 30th April, 2016 was based on Sexual Harassment of Women. 36 teams from different law colleges perusing 5 year integrated law course or 3 year law across India participated in the competition.
The pre-rounds, quarter finals, semi-final rounds were judged by Senior Advocates of various High Courts, esteemed faculty members of different law colleges and NLUs, CJMs, etc.
The final round of the 1st National Moot Court Competition organized by Harlal School of Law, Noida held on 30th April, 2016 was won by the team of Institute of law, Kurukshetra University, Kurukshetra
The winning team comprising:-
Priyavrat Parashar
Bhujali Chauhan
Neeraj Goel
The Best Mooter was awarded to Priyavrat Parashar of Institute of law, Kurukshetra University, Kurukshetra.
The Best Memorial was awarded to UILS, Punjab University, Chandigarh.
The following is an interview of the Institute of law, Kurukshetra University, Kurukshetra team which won the 1st National Moot Court Competition organized by Harlal School of Law, Noida was held on 29th – 30th April, 2016
IN SESSION:
Hello Guys, first of all Congratulations on your splendid victory!
Priyavrat Parashar:
WE ALL 3 ARE GUIDED BY A SIMPLE QUOTE WHICH WAS SAID TO US BY A HIGH COURT JUDGE WHEN WE WENT FOR OUR FIRST NATIONAL MOOT COURT AND THAT IS :-
"WINNING IS'NT EVERYTHING BUT WANTING TO WIN IS" AND MOOT COURT TRULY IS A PLACE WHERE HARD WORK MEETS EXCELLENCE, YOU JUST NEED TO WAIT FOR YOUR TIME.
Winning a moot is esteemed moment… To recapture it we want to conduct an interview, it will take only a few moments.
1. What made you choose this present moot in the first place?
Priyavrat Parashar:
Well it's always tough to choose for any Moot Court Competition but we always go for the one whichever is the most interesting among the all other available Moot Propositions. The proposition was based on latest Criminal Amendments of 2013 and I was interested to do research on its applications. So I requested both my teammates to decide and luckily, after reading proposition they both found it challenging.
Bhujali Chauhan:
The moot dealt with the issue of acid attack, sexual harassment and stalking, and   being   a feminist, I have keen interest in issues dealing with women. And I   wanted to explore the loopholes in these laws and do extensive research on these topics. Besides, the moot was at Noida which is at a convenient distance from my own university at Kurukshetra.
Neeraj Goel:
As the proposition was on criminal law, and our interest being more in criminal law was in the first footing.
2. The moot proposition was based on Sexual Harassment of Women, what you felt about the moot proposition?
Priyavrat Parashar:
I am of the view that Sexual Harassment is an age old concept; it existed in British India and unfortunately is still prevalent in this country even after the legislators have amended the Indian Penal Code, 1860. The 2013 Criminal Amendment focused on adequate & fair compensation schemes to the victim with severe punishments to the culprits. Additionally, I personally wanted to research on all the prospects of 2013 Amendment sections like 326A, 354A to 354D.
Bhujali Chauhan:
The proposition was very interesting and primarily dealing with criminal law .It was a well balanced proposition with ample of arguments from both sides. Besides acid attack, it also explored the concept of compensation to the victim . The major issues of sexual harassment at workplace and stalking also highlighted the plight of a majority of working women and made the proposition all the more intriguing.
Neeraj Goel:
It was good and the topic was more of a moral kind.
3. What was your strategy behind preparation? How did you kept the balance and managed both your college schedule & moot related research work in drafting of memorials and oral arguments?
Priyavrat Parashar:
Unlike other Mooters, I am not a strategy guy. My technique is simple I directly hit on time. So at time of college I regularly attended my classes and at night I go for all other important things like writing papers, searching for internships or doing moot preparations. My daily time balance gave me 4-5 hours daily for this moot and which was sufficient till the day of memorial submission. Drafting memorials is a skill; we spent like 15 days on research and 15 days on making memorial. For oral argumentation we spent like 5-6 days as for me it is always easy to learn the arguments on which you have already researched but still even in the morning of the competition my arguments were full of editings. I personally believe that you should never stop improving your arguments.
Bhujali Chauhan:
It's really not very difficult to manage studies and moot related work .I make sure all my assignments, seminars etc. are completed as soon as they are assigned, so that if any time I have to do research work, I am free to do that. Preparing the memorial and oral arguments is really a time consuming task but at the end it is team work. Regular and balanced study is the key to handling work pressure. The basic strategy behind preparation was to first be well versed with the facts and explore the facts from every view point possible and discovering all the loop holes. Thereafter I focused on research work, finding as much related cases as possible and to explore the topic in depth. Thereafter I moulded my arguments in accordance with the research work applied to the facts of the case. There after we team mates practiced our oral arguments in front of each other, asking questions and grilling each other like the judges would do which really helped us to get in the flow and mend the potholes in our arguments.
Neeraj Goel:
Group discussion. We gather together after college time and in free lectures.
4. Team work makes the dream work. How important you feel the essence of team effort during preparations? Were there any roadblocks?
Priyavrat Parashar:
My present team was one of the best team I have ever worked with. The team consisted of me who had many experiences of losing Moot Courts; we had Bhujali who according to me is one of the best Mooters in my college and Neeraj who can find any precedent. According to me, it was a perfect team.
Bhujali Chauhan:
The team was very supporting .everybody was ready to give their hundred percent and were in for all the hard work required. We really worked day and night. We practiced oral arguments in front of each other. There was lot of honest and constructive criticism. There was good coordination and understanding between us. I don't feel there was any room for roadblocks
Neeraj Goel:
I feel like we won only because of team efforts and regarding roadblocks they were very negligible.
5. Well, 36 teams in the 1st Harlal National Moot Court Competition, what do you felt about the competition and which was the round you enjoyed the most?
Priyavrat Parashar:
Yes, I was surprised as well. I expected only 15-20 teams but 36 were too much. The competition consisted of 7-8 National Law Universities and various good institutions like Government Law College Mumbai, UPES, Dehradun. The organizing committee was very good, as all the rounds were going on before time. I liked my Semi Final Round the most as it was against some NLU and we had a very tough fight.
Bhujali Chauhan:
The competition was really good. There were teams from all over India and some very good law colleges. The round which I enjoyed the most was the final round because the aura of that set up is very different. It happened in a grand manner on a well prepared stage and there were reporters, videographers, teachers and other learned and distinguished people and other teams sitting in the audience. There were High Court and Session Court judges forming the bench, who were observing every word and gesture of ours. The opposite team was like ready to pounce upon any weakness in our arguments that they may find . Besides the final round was not just competing against our opposing team rather it was like a trial against every team who could not make it to the finals and were sitting in the audience and observing us like what Is the special thing that they have which helped them reach the finals. All these senses combined made it a really great and memorable experience for me.
Neeraj Goel:
Competition was nice as a number of teams were from renowned colleges. The round I enjoyed the most was semi-final.
6. What would like to say about the Judges in different rounds of the competition? What was the level of grilling?
Priyavrat Parashar:
Well the Preliminary Round judges were the alumni's of the Harlal School of Law. As they all had personal experiences in Moot Court so the level of grilling was very good. In Quarter Final and Semi Final rounds they had Advocate practicing in Delhi High Court and Judicial Magistrates. The final round was judged by a quorum of a retired Supreme Court and Delhi High Court Judges.
Bhujali Chauhan:
The judges were very good and learned people .Really there were times when we would wish may they not ask us this question but they would end up asking that very question because they were well versed with the proposition and knew that it's a tricky question for the competitors. The level of grilling was very good. The judges in the semifinal round were the most challenging for me and were really grilling the participants pro level.
Neeraj Goel:
On a scale of 10 I would say it was 8.
7. How was the final round up against University of Petroleum and Energy Studies, Dehradun? How will you describe the opposition team?
Priyavrat Parashar:
Law Institute of UPES Dehradun is a good college and is even in top 10 colleges of this country. I have been there for a Client Counseling Competition in 2015; they have Moot Court as a subject in first year which enhance their dedication towards Moot Court by making a base in the vary 1st year. Team from UPES was very good at Oral Argument except on some points where they focus on presumptions and were grilled by the Judges on it. The team had wonderful coordination which could have been seen at the time of rebuttals.
Bhujali Chauhan:
The final round was most interesting as I already described and the opposing team gave us a tough competition. They had also prepared their arguments well and one of the mooters had really nice speaking skills. After the competition when I interacted with them I found them as humble and friendly as fierce and competitive they were during the oral rounds.
Neeraj Goel:
The final round was good. The opposite team was tough. However, we were tougher. Great experience, it was!!
 8. Students mostly are too scared and hesitating while participating in moot court due to intense research work. How important is mooting in a law student's career. Any message would you like to pass on to the law students?
Priyavrat Parashar:
 According to me Moot Courts play a very vital role for career prospects. They act like Shastra (Weapons) in CV which helps you grab any job in corporate sector. Even when you apply for internship at good Law Firms, one of the most important things after academics and paper presentation are Moot Courts in a person's CV. Even just after winning good Moot Court Competitions students can directly get chance to grab up jobs.
The only message I wish to give to all young law students is to do a National in every semester because it just not only gives you knowledge but also make you understand about your own standing in the competition prevailing between law students of your age and year. When I did my first Moot Court in 1st year of college I was representing Plaintiffs but I spoke everything form side of Defendants but now I personally feel I have done something good for my college and university. I have improved 90% of me in terms of Moot Courts, Internships after getting career advices from friends and people I met at such competitions.
Bhujali Chauhan:
Mooting is the closest experience we can get to real life court arguments while in the college. Besides internships, mooting really helps shape the lawyer inside us and enhances our speaking skills and confidence. It is the practical application of all the laws and concepts. It teaches the mooter how to mould arguments and counter the questions of judges. Mooting helps us to learn from our mistakes, interact with people from so many other universities and get valuable tips from all the distinguished people and judges.
The messages from me to the law students would be …never shy away from hard work. Hard Work always pays off in life and a lawyer is nothing without hard work. Life demands hard work and struggle…be it now or in the future …it is easier to say no and not do anything…but  be a 'yes' man, never shoo away any opportunity from your doorsteps and be always ready to take up challenges because it is only in the tough situations that we realize our true potential.
Neeraj Goel:
Mooting is a very important part of a law student's life. It is really one of the best things a law student could do and gain a lot. The intense research which is involved in mooting helps a law student to gain knowledge of law and it is highly beneficial. Mooting is hard-work, dedication and fun at the same time. It helps in developing speaking, writing and research skills of a law student. Every law student should participate in moot courts. Winning or losing doesn't matter because at the end of the day all that matters is what you learnt from your experiences. One should always remember that failure is the path to success.
Thanks a lot!!
 Interview by
Priyanka Verma
Institute of Law, Kurukshetra University