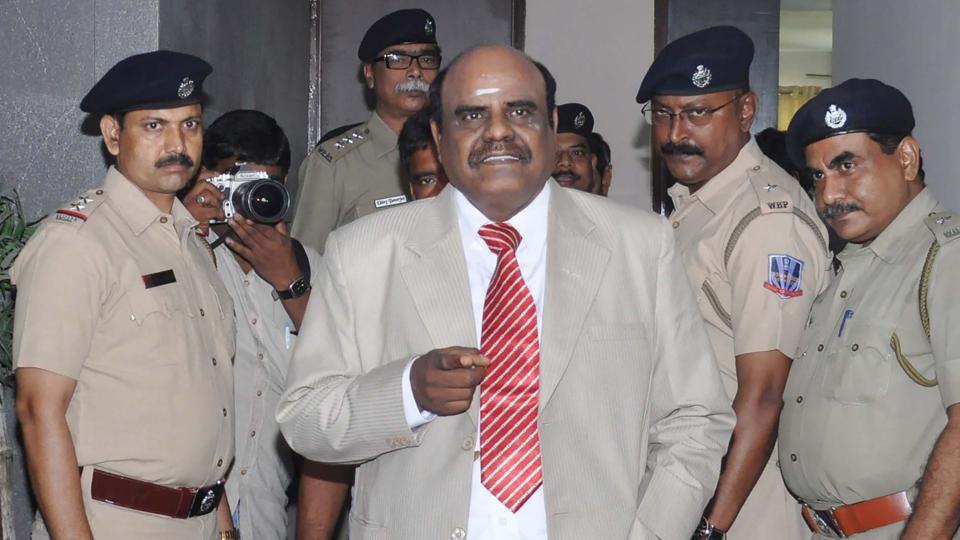 INTRODUCTION:-
Former Calcutta High Court Judge CS Karnan was on Tuesday arrested from Tamil Nadu's Coimbatore and was taken to Chennai. "Karnan had been found staying in an apartment at Madukarai, near Coimbatore. We provided technical assistance to the West Bengal police, and they arrested him from the apartment," A Amalraj, City Comissioner of Police (Coimbatore), told TOI. Sixty-two-year-old Justice Karnan had been evading arrest since May 9 after being sentenced to six months imprisonment for contempt of court by the Supreme Court. He won the dubious distinction of being the first sitting high court judge to be awarded a jail term by the apex court. Karnan is facing six months imprisonment for contempt of the Supreme Court, retired on June 12, probably escaping the odium of a sitting judge being arrested while in office.
There are series of events which raises questions and one of them is a very important one i.e. is there any law to discipline judges. The judiciary is one of the important mechanism of our society whose job is to give correct interpretation of laws and to fill the vacuum between the society and the law. But what happens when the judiciary instead of filling the vacuum starts taking advantage of this vacuum. The Judges (inquiry) Act, 1968 has time and again failed to discipline judges. The said Act talks about impeachment of judges but does not address infractions that are not serious enough for impeachment.
MAIN ISSUE:-
Justice C.S Karnan of the Calcutta High Court has been on headlines lately because of his indecisive behaviour. But this is not the first time that the honourable Judge is in trouble. His behaviour with fellow judges in Madras High Court was found to be so offensive that 21 of them signed a complaint against him[1]. On 23rd January Justice Karnan wrote a letter to the Prime Minister[2]. He urged Prime Minister Modi to go through the initial list of corrupt Judges of Madras High Court and also requested the Prime Minister that these officials shall be interrogated by the officers of central agencies[3].
On 8th February, 2017 the Supreme Court took judicial note of several letters with serious allegations of corruption and bias against members of the judiciary over the last three years [4].As Karnan failed to appear, the apex court on 10 March, in another unprecedented move, issued a bailable warrant against him[5]. The Court issued contempt notice against Justice Karnan for alleged judicial indiscipline[6]. In response to this the honourable Justice accused them of harbouring a caste bias against him[7]. He accused the CJI J S Khehar led seven judge bench of upper caste bias in initiating the proceedings as he belonged to the dalit community[8]. The judge challenged the order as being an offence under the law to punish atrocities against Dalits and tribalsand challenged the court to refer his case to parliament[9]. He also asked the CJI and six judges of the Supreme Court to appear before him at his "residential court" on April 28[10]. Later in an order, Karnan directed the Air Control Authority in New Delhi not to allow the CJI and other six judges to travel abroad[11].
Currently the Supreme Court ordered medical examination of Justice CS Karnan[12]. To which the Judge replied by passing an order for psychiatric examination of the seven judges of the apex Court who heard case against him[13]. The Supreme Court directed the Kolkata government hospital to carry out the medical examination of the judge[14].
Justice Karnan had on 4 May declined to undergo a mental health checkup as ordered by the supreme court, telling a team of doctors he is "absolutely normal" and has a "stable mind".
Justice Karnan also added another supreme court judge Justice R Banumathi in the list against whom the order was passed for having restrained his judicial and administrative work along with CJI Khehar.The bench had initiated suo motu(on its own) contempt proceedings against Justice Karnan and restrained him from performing judicial and administrative work.He named members of the apex court's seven-judge bench, comprising the Chief Justice of India, Justices Dipak Misra, J Chelameswar, Ranjan Gogoi, Madan B Lokur, Pinaki Chandra Ghose and Kurian Joseph.
On Monday, in an escalation of his confrontation with the Supreme Court, Justice Karnan while awarding the 'sentence' said the eight judges have "jointly committed the offences punishable under the SC/ST Atrocities Act of 1989 and amended Act of 2015.
On Tuesday, Supreme Court created two firsts in judicial history- it jailed sitting high court judge C S Karnan for six months, convicting him for contempt of court, and it gagged the media from reporting his reaction or his future statements.
CONCLUSION:-
This kind of behaviour coming from a judge is a wake up call for the whole nation. It also emphasises on the importance of having strict regulatory behaviour for the judges. A judge who has several times tried to malign people from his fraternity is not only a threat to his fraternity. It is also the responsibility of the state to stop being a silent spectator and take strict actions against this kind of behaviour.
The lesson here is that while the collegium system had been unable to stop someone of his nature entering judicial office, maintaining internal discipline in the judiciary is an equally vexing issue.
END NOTES:
[1] The curious case of Justice Karnan, The Hindu (2016), http://www.thehindu.com/opinion/editorial/the-curious-case-of-justice-karnan/article8245394.ece (last visited May 6, 2017)
[2] Pallavi Prasad, Decoded: Will Justice Karnan Be Held in Contempt by the SC? The Quint (2017), https://www.thequint.com/explainers/2017/02/13/justice-c-s-karnan-threatened-with-contempt-charges-argues-transfer-bias-an-explainer (last visited May 6, 2017).
[3] Id.
[4] Id.
[5] Id.
[6] Justice Karnan refuses to undergo mental checkup, calls Supreme Court judges mad' and 'illiterate', Firstpost (2017), http://www.firstpost.com/india/justice-karnan-refuses-to-undergo-mental-checkup-calls-supreme-court-judges-mad-and-illiterate-3423054.html (last visited May 6, 2017)
[7] Id.
[8] Id.
[9] Id.
[10] Id.
[11] Id.
[12] Prabhash K Duttta, CURIOUS CASE OF JUSTICE KARNAN: A HISTORY OF CONTREVERSIES AND MYSTERY INDIA, NEWS-India TODAY (2017), https;//www.google.co.in/amp/m.indiatoday.in/lite/story/justice-cs-karnan-calcutts-high-court-supreme-court/1/943019.html (last visited May 6, 2017)
[13] Id.
[14] Id.
By
Shilpa Chaudhury
KIIT School of Law