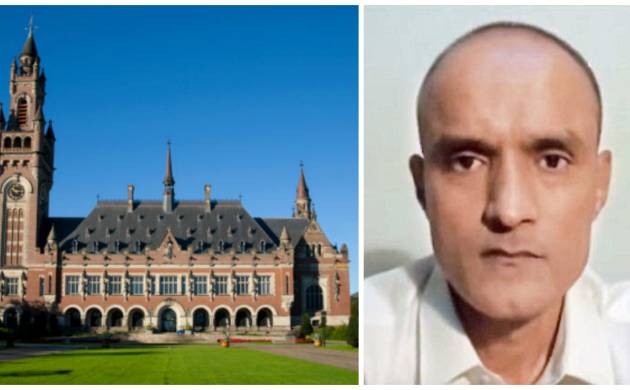 ICJ Bench stating the provisional measures sought by India against Pakistan in the matter. ICJ President Ronny Abraham calls upon Deepak Mittal, agent for India to make his submissions VD Sharma, Kajal Bhat, Harish Salve (counsel), Chetana Rai (junior counsel) part of India's delegation. Mittal highlights "farcical nature of proceedings" post the military court's conviction of Jadhav. Pakistan's actions are violative of Article 36 of the Vienna Convention on Consular Relations – VD Sharma
Harish Salve begin his arguments
"The situation in which we find ourselves is grave and urgent" – Salve
Salve to touch upon four aspects: jurisprudence of the ICJ, prima facie question of the jurisdiction of the Court, prima facie violation of Vienna Convention, and India's request for provisional measures.
Salve citesCosta Rica v. Nicaragua case
Paraguay v. USA (1998) – court observed that on a request for provisional measures, the court need to go into whether it has jurisdiction to hear the case.
Germany v. USA (1999) – reiterated that interim measures can be granted if irreparable harm can be caused. Stay on execution would not pre-judge court's findings on merits.
Mexico v. USA (2003) – Mexican nationals were at the risk of being executed in US within weeks, court granted provisional measures.
"Jadhav's mother's appeal will be disposed of shortly" – Salve
Salve quotes from press release of military spokesperson's interview. Did not see any chance of verdict being overturned.
India's position continues to be that Jadhav was kidnapped from Iran and framed by Pakistan.
Salve dismissed Pakistan's suggestion that Jadhav seeks clemency from military and Prime Minister.
Salve on jurisdiction – Standard for determining need not satisfy itself while granting provisional measures that it has jurisdiction.
Optional Protocol – Disputes arising out of interpretation or application of Vienna Convention must be brought before the court.
Merits of the case not material for this hearing. Court's intervention needed when execution of person is at stake.
(Harish Salve arguing in ICJ)
Pakistan rejected India's application, saying ICJ has no jurisdiction. India argues that the binary requirements for Court's intervention are fulfilled, therefore Court has jurisdiction.
Salve citing numerous cases on compulsory jurisdiction of ICJ.
Multiplicity of agreements/conventions under which compulsory jurisdiction can be invoked.
Bilateral agreement on Consular Access between India and Pakistan entered into in 2008 irrelevant.
India does not rely on this agreement and does not need to. It relies solely on the Vienna Convention.
Exchanges between India and Pakistan more than show a prima facie violation of the Convention.
Convention does not contain any exceptions to granting consular access.
Law qualified field officer represented Jadhav during military court trial – Pakistan.
India does not want ICJ to sit in appeal over Pakistan's courts' orders, but violation of Convention deems intervention.
The graver the charges, the greater the need for punctillious agreement with the provisions of the Convention
Salve quotes Avena case b/w Mexico and USA. If rights of individual under the Convention are violated, rights of the sending state are violated.
Pakistan said it would consider granting consular access if India assists in investigation. This is an untenable position under the Convention.
Pakistan argues that Jadhav has other remedies under law, so ICJ has no jurisdiction.
Lahore High Court Bar Association has threatened lawyers not to take up Jadhav's case.
India has a strong case for seeking provisional measures that Jadhav is not executed, and that no action is taken that would prejudice India's interests, Salve concludes his arguments.
Pakistan makes oral observations Here are Pakistan's arguments:
Agreement between India and Pakistan has been in force for 10 years.
There are flaws in India's application – Khawar Qureshi, counsel for Pakistan.
Annex 9 provides a statement made in a press release. Says that Jadhav's trial would be decided on merits.
Information of bank records, phone records of Jadhav made by Pakistan, perfectly legitimate.
India's application states that Jadhav's confession came after consular access was denied. "Plainly incorrect", Qureshi says.
Bizarre to suggest that Jadhav was tried by some sort of kangaroo court – Qureshi
In Paraguay case, death sentence would be given in 11 days, in Avena case, it was four weeks. In LaGrand (Germany v. USA), it was six months. This case is not similar to those.
Relief sought is palpably unavailable.
LaGrand case says that ICJ is not a court of appeal
If there is no substantive relief liable to be granted, provisional measures should not be given
Qureshi now arguing on jurisdiction of Court.
Refers to 1999 case where Pakistani aircraft was shot down by India
India had not submitted to ICJ jurisdiction in that case
Only Article 36 of Vienna Convention highlighted by India
If it taken that Jadhav is a spy, Article 36 (1) (c) does not apply
Not one jot of evidence has been submitted by India to counter the charge that Jadhav is a terrorist.
India has not explained why bilateral agreement on consular relations is not relevant.
That Pakistan is denying consular access to Jadhav is far from the truth
No risk of irreparable harm being done in one or two days.
Qureshi finishes his submissions
"Court will render order as soon as possible" – President Ronby Abraham By: Mayank Jain Indore Institute of Law