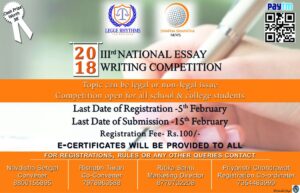 ABOUT –
With an objective to enhance the writing talents of young budding professionals, Legge Rhythms Media and Publications in association with Swarna Bharatha News come up with the 3rd National Essay Writing Competition 2018.
ABOUT SWARNA BHARATHA
Swarna Bharatha News is a new initiative by law students of different law colleges across India to form neutral news portal where original and true views about the society can be featured. You can access their website- swarnabharatha.org
THEME OF THE ESSAY –
Any Legal or Non-Legal Issue.
(Preferably Recent Topics)
ELIGIBILITY –
Any school going student or a student pursuing undergraduate or postgraduate courses can make submissions for this competition.
SUBMISSION GUIDELINES
∙ The competition is open to all school and college students
∙ Only original articles must be submitted. Plagiarism more than 40% would lead to disqualification.
∙ The essay should be written in English.
∙ Word Limit- Minimum 500 words Maximum 1500 words
∙ The essay must be typewritten
Headings – Font Size 16, BOLD
Sub Headings- Font Size 14, BOLD ITALIC
Content- Font Size 12
Font- Times New Roman
Line Spacing- 1.5
Margins- 1" on each side
∙ Submissions should be made in .doc or .docx format only
REGISTRATION FEE –
100 Rs per author
PAYMENT PROCEDURE
Paytm- 8435983045 (Scan the Code provided on the page below)
EVALUATION PROCEDURE
Every article will be peer-reviewed and evaluated on three levels. Every participant will be allotted a code during registration. The participant will send in their articles in which the file will be named by the code they have been allotted. No mark of identification permitted.
The article would be first reviewed by a set of law students.
In level two, Top 20 articles would be judged by a panel of advocates and academicians.
In level three, Top 10 articles would be judged by a panel of senior advocates and academicians.
PRIZES –
Ist Prize – 1200 INR + Certificate + Publication in an ISSN Journal
IInd Prize – 1000 INR +Certificate
IIIrd Prize – 800 INR + Certificate
Top 10 Participants get online internship under Legge Rhythms & Swarna Bharatha
E-Participation Certificates for all the participants.
IMPORTANT DATES
∙ 5th February 2018- Last Date of Registration
∙ 15th February 2018 – Last Date of Submission
∙ 10th March 2018- Result Announcement
SUBMISSION PROCEDURE –
Submissions to be made on swarnabharatha.official @gmail.com
No mark of identification should be made at the time of submissions.
REGISTRATION LINK –
https://goo.gl/forms/rjJQCx0r8Gno7Em13
CONTACT –
Navdisha Sehgal – 918800155895
Rishabh Tiwari – 919782600887
Ritika Sahini – 918770732208
Priyanshi Chandrawat – 917354463999