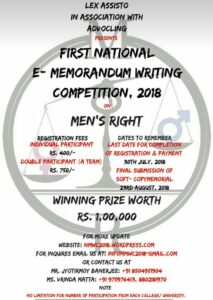 Reference Code  KNOW5025
Lex Assisto in association with Advocling presents the Inaugural Edition of 1st National E-Memorandum Writing Competition, 2018 which is to be organized on one of the major issues which is moreover being neglected into the modern world of our legal system, and that is MEN'S RIGHT.
The competition will indeed be an ideal platform to bring together some of the most creative and intellectual young minds from leading law schools around the globe to participate and witness their knowledge on research skills to be adjudged by a panel of experts.
Today in India men's have been trying so hard for years, and no one has heard them. Men are HUMAN BEINGS too. Their life has to be valued and their stories need to be heard, the misconception that men are sexist intolerance, full of hatred towards women, ought to be replaced with more positivism and open mind.
There are so many issues which are not highlighted in the media news and media trails. Men's issue does not get the attention because in Indian society it has already started creating emphasizing more on women that they forget about men who are human beings too.
Important Dates:
Release of Moot Problem: 25th May, 2018
Registration Opens: 27th May, 2018
Last date of Payment: 30th July, 2018
Registration Closed: 30th July, 2018
Last date for Clarification: 10th August, 2018
Last date for the Submission of Soft-Copy of the Memorial: 23rd August, 2018
Release of Result: 30th August, 2018
Make sure you do not miss any date: Click Here
Registration Form:
Each and every individual has to fill the Registration Form to make themselves register for the Competition. In this the participant can register themselves on Individual basis or in a formation of Two members in a Team. The participants have to make the Memorial from Both the side (Plaintiff and Defendant) of the Case.
Kindly click here to fill the online form, Click Here
Contact Us:
Kindly reach us at:
Organizing Committee: infonmwc2018@gmail.com
Mr. Jyotirmoy Banerjee: +918504951904
Ms. Vrinda Matta: +91 9711976413, 8802181970
Awards:
There are various exciting prizes for uplifting the confidence of young creative and intellectual minds in the field of law.
Winning prize worth Rs. 1,00,000.
For Awards: Click Here
1st National E-Memorandum Writing Competition, 2018: Official Website
For Online Registration: Click Here
Download Brochure: Click Here