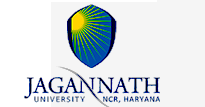 ABOUT THE UNIVERSITY
Jagan Nath University, NCR, Haryana  has been promoted by Jagan Nath Gupta Memorial Education Society, established under Haryana State Legislature Act No. 8 of 2013, and approved under Section 22 of the UGC Act, 1956. It started its operations with effect from academic session 2013-14 on its own 25 acres campus, located at State Highway 22 (Bahadurgarh-Jhajjar Road). The University has launched UG and PG programs in the Faculties of Engineering and Technology, Computer Science & Technology, Architecture, Management, Commerce, Law, Physiotherapy, Physical Sciences, Social Sciences and Education. The University aims to impart high quality education and promote employability among youth. To achieve this aim, the University has developed a reasonably good physical and academic infrastructure, recruited qualified and experienced faculty, state-of-the-art classrooms, laboratories and other facilities. To ensure adequate practical exposure to learners, among other things, the programs are being implemented with an adequate component of industry exposure.
ABOUT FACULTY OF LAW
The University's Faculty of Law started its operation from academic session 2014-2015.  The University offers graduate and post graduate programs in law. The main objective of the program is to groom students to acquire profound and exhaustive theoretical and research knowledge that enables them to tackle complex problems in their respective specialized fields and thereby continue towards their objective of attaining excellence. The extensive program provides scope for learning and development through engagement in class room, lecture, project work, seminar, moot court as well as research dissertation.
 ABOUT THE SEMINAR
Crime rate in India has shown growing trend in recent past. There is a need to reform criminal laws to bring them in parity with the demand of times. Law Commission of India plays an important role in the same. Commission invites suggestions from the academicians, researchers, advocates and Judges and even from the citizens of India on this issue, but only few experts provide such suggestions. There are many issues that need to be discussed to achieve the objectives of the Criminal Law Reforms in India. With this background, the Faculty of Law is organizing one-day National Seminar, so as to foster innovations and knowledge in the aforementioned field.
A one-day National Seminar on "CRIMINAL LAW REFORMS IN RECENT TIMES" is being organized on February 11, 2017 by Faculty of Law, Jagan Nath University, Bahadurgarh,  Haryana.  Law never remains static and new problems emerge with the passage of time and to control the same Law Reforms are made. The Seminar will focus on the following Sub-themes:
SUB- THEMES
Trends in registration of First Information Report and Role of Police.
Laws relating to Habitual Offenders and Recidivists
Criminal Laws relating to Protection of Women and Children
Acid Attacks: Issues and Challenges
Adequacy of Present Criminal Laws
New Thoughts and Approaches to Criminal Jurisprudence
Sufficiency of Law on White Collar Crimes
Doctrine of the Fruit of the Poisonous Tree: Position in India
Laws relating to Corporate Criminal Liability
Corporate Manslaughter in India and position in other countries
CALL FOR PAPERS
Research Papers are invited from the Academicians, Practitioners, Research Scholars and Students on the topics related to the above theme. It is proposed that the selected papers will be published in a special volume in the form of an edited book with ISBN Number.
Authors of selected papers would be given an opportunity to present their papers during sessions on the day of the Seminar.
GUIDELINES FOR ABSTRACT AND FULL PAPER SUBMISSION
Word Limit of the Abstract:  300 – 350 words
Abstract shall be accompanied by a brief profile of the author indicating his/ her name, University/Organization/Institution, Email ID, contact number and official address.
Word Limit of the Final Paper:  2500-3000 words.
It must be typed in Times New Roman Font Size 12 on A4 size paper with 1" margin on all sides with 1.5 line spacing using MS Word.
The Blue Book: A Uniform System of Citation (19th ed.) must be strictly adhered to while submitting the abstracts and full paper.
All the abstracts and full length papers shall be sent on email id: [email protected] or [email protected]
ORGANIZING COMMITTEE
Patron: Sh. Manish Gupta
Convener: Prof. H.L. Verma
Organizing Secretary: Dr. Raj Kumar
 Advisory Committee-
      Dr. G.S. Rajpurohit, Professor
      Dr. Mahendra Tiwari, Professor
      Dr. Vijay Pal Singh, Assistant Professor
       Ms. Isha Saluja, Assistant Professor
       Ms. Radhika, Assistant Professor
Research Committee:
Mr. Ashok                                                             Ms. Sneha Dagar          
Mr. Divyanshu Chauhan                                   Ms. Pooja Yadav            
IMPORTANT DATES
Last Date for submission of Abstract: 22nd January 2017
Intimation of acceptance of Abstract: 25th January 2017
Full Paper Submission (Soft Copy) & Registration Fees and Registration Form: 05th February 2017
Seminar: 11th February 2017
REGISTRATION FEES
Student: Rs. 1000/-
Teacher: Rs. 1500/-
Co-author*: Rs. 2000/-
*Co Authors shall not be more than two for a research paper.
Mode of Payment
 Offline Mode: Registration fees to be paid by demand draft in the name of "JAGAN NATH UNIVERSITY" payable at Bahadurgarh must reach on or before 05th February 2017 on the address mentioned below along with the single side printed hard copy of the Article.
Online Mode: For online registration fees transfer, details may be asked on below email-id with queries, if any.
For further details, contact: Organizing Secretary, Dr. Raj Kumar Yadav, Faculty of Law, Jagan Nath University, Bahadurgarh-Jhajjar Road, State Highway-22, Jhajjar-124507, (Haryana)
Email id: [email protected] or [email protected]
M-09466602200, For updates, log on to: http://www.jagannathuniversityncr.ac.in
Brochure Click Here
Registration Form Click here