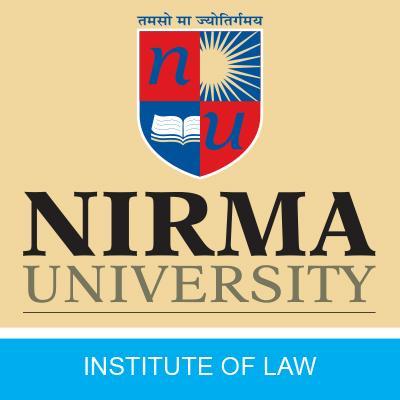 Prominent law school in Ahmedabad, Nirma University's Institute of Law, finds itself embroiled in the midst of a raging row over its placement data. Students and alumni have raised concerns that the institute has misrepresented placement details ahead of admission season. Students and alumni are questioning the authenticity of information circulated after Institute of Law, Nirma University (ILNU) announced that their student was offered the highest pay package of Rs 16 lakh per annum in the placement season this year. They have started an e-mail chain, raising concerns about the institute's timing of spreading such information as law schools will soon start admissions.
Institute is claiming false credit: students 
Law graduates claim the institute was trying to claim false credit as the meritorious student that the institute referred to had got the offer through his own efforts. "BCom LLB student Alind Chopra had received a pre-placement offer. He did not get the job through campus placement," said a 2017 graduate, refusing to be named. Mirror had published a report 'So far, so good: Nirma Law grad offered Rs 16L salary' on May 12, 2017. The report was based on an official communication dated May 11 which was shared through ILNU's official email address. The communication sent to media was reportedly approved by ILNU Director Purvi Pokhariyal. Asked about the controversy, Placement Coordinator (ILNU) Shailja Tripathi said, "We did provide logistic support to the student who bagged the highest salary. He has studied here. Isn't that the institute's contribution?"


It was pre-placement offer, says Alind Chopra 
However, Alind Chopra, who graduated from the five-year course in April 2017, said the job offer from a known law firm in Mumbai was the result of two internships with them. "I was not placed through campus placement. I had applied for the internship myself. It was a pre-placement offer, which is independent from the institute. Contrary to the institute's claim, I do not know even know what my pay package is," Chopra told Mirror. Director Purvi Pokhariyal said students find internship on their own in all institutes. "I don't see why it is being said that the institute has no role to play when a student gets internship. No one takes on an intern unless the documents have the college's stamp and signature. There is some influence of the institute when students apply for internship." About the pay package details, the placement coordinator said, "No law firm provides written details about pay package. Students are informed verbally about it at a later stage. We calculate the average package based on information provided to students and through figures available about the pay packages from the market." ILNU students have to pay Rs 5,000 each to enroll for placement process.
Rs.34 lakhs package story reported by Ahmedabad Mirror back in 2012
For those who do not remember the news on a placement of Rs.34 lakh per annum back in 2012, the news clipping is attached hereunder to refresh memories.
The Story published by Ahmedabad Mirror back in 2012 which attracted a majority of the 2017 match students towards ILNU. Based on this news clipping, 2017 batch students opted for ILNU over other prestigious institutions.
It seems Ahmedabad Mirror has a flair for publishing concocted stories about ILNU's highest package.
ILNU's students of 2017 batch can recall this story very clearly as many of them considered Nirma University over other institutions on the basis of this news clipping. They later learned that it was an off-campus placement, acquired not through college initiative but as a Pre Placement Offer owing to the girl's own merit. Sadly, as they say, some things never change.
The true story behind the 16 Lakhs package
Presently, only the students of ILNU are aware of the true story behind the recent placement of 16 Lakhs. Alind Chopra, who bagged the package of Rs. 16 Lakhs (which is a false figure since Alind is himself not aware of his package yet), achieved it on his own merit and not owing to any initiatives taken by ILNU's Placement Drive. How hard he had to toil to get that job on his own and how frustrated he was at the inactivity of the Campus Recruitment Cell (CRC) of the college and the careless attitude of the administration at not having the PPO is no secret to the present students of ILNU. Owing to the fancy story covered by Ahmedabad Mirror, it appears that the Campus Recruitment Committee run by Mrs. Shailja Tripathi has belittled his entire achievement by stealing the credits and misplacing them in the name of the Placement Committee. The official truth, as disclosed from the conversation with Alind Chopra, is that he has been offered a PPO (Pre Placement Offer) but the package has not been disclosed yet.
The Placement Records for the last 3 batches
As per the records provided by the CRC, only 96 students appeared and paid 5000 Rupees each for sitting in the Placements instead of 103 students as claimed by Ahmedabad Mirror, to cumulatively contribute a rough sum of Rs 5.15 lakhs.
PLACEMENT FOR BATCH PASSED OUT IN 2015 (As reported by Bar & Bench)
Institute of Law, Nirma University, Ahmedabad has placed 63 students of its 2015 batch in various law firms and companies.
Out of a batch of 209, 95 students opted to sit for placements, with the rest opting for litigation or higher studies. Among the law firms, Wadia Ghandy made the most hires – 3 in Mumbai and 2 in Ahmedabad. AZB & Partners, J Sagar Associates, and Lakshmikumaran & Sridharan were also among the hires.
The highest salary offered was Rs. 10.5 lakhs per annum and the minimum package offered was Rs. 3 lakh.
Full details of placements and other relevant information covered by Libertatem Magazine 
Read More about the controversy.
The ILNU Placement Data Controversy –
[12th May 2017] Ahmedabad Mirror's 1st post stating false data – http://ahmedabadmirror.indiatimes.com/…/articl…/58631875.cms
[15th May 2017] Libertatem Magazine exposed ILNU and Ahmedabad Mirror stating true figures – https://libertatemmagazine.com/…/ahmedabad-mirror-misreport/
[17th May 2017] Ahmedabad Mirror defends itself by blaming ILNU of providing false data – http://ahmedabadmirror.indiatimes.com/…/articl…/58705974.cms
[18th May 2017] Ahmedabad Mirror goes ahead to cover this issue further, state ILNU threatens students-http://ahmedabadmirror.indiatimes.com/…/articl…/58722249.cms