About the Organisers
The Amity Law School (ALS) in AUMPwas established in 2013. Amity Law School conducts three integrated 5 years under-graduate courses, LLB (Hons) (3 Years), LL.M.(One Year) and PhD programmes in law-related subjects. The main focus of ALS is to promote high-quality research and develop professionals in legal education and the legal profession. Development of cutting- edge skills, imparting high-quality education and conducting research in the emerging trends in legal education and the legal profession are the main features of the School. Moot Court Committee, Amity Law School, Amity University Madhya Pradesh is privileged to invite you for advancing premier level arguments and to hone your research as well as argumentative skills on a National level event of Moot Court Competition which shall be judged and presided over by the Hon\'ble Justices (Sitting or retired) of the Court of law and renowned Advocates in the arena of Criminal Laws. This is the 3rd edition of National Moot Court Competition being conducted by Amity University Madhya Pradesh and Moot Court Committee has been active in conducting workshops on Memorial Drafting & Mooting Skills, Intra Moot Court Competitions etc.
BACKGROUND
Amity Law School, Amity University Madhya Pradesh is privileged to host its 3rd National Moot Court Competition on 26th to 28th September 2019, in the memory of Late Shri. J.P. Gupta, Senior Advocate, M.P. High Court, Bench at Gwalior. He is a persona of Excellence and to host the event under the aegis of the Institution-like-personality of Shri J.P. Gupta will be a ray of hope and guided motivation for the Budding Lawyers, who are the future of our Bar & Bench of the Indian Legal System. Shri. Gupta is known for his command over Criminal Laws, and thereby the theme of this Moot Court Competition is primarily aimed at "CRIMINAL CASE" and arguments thereon. The aim to organize the Moot Court Competition in the memory of Shri. Gupta is of great significance, as the future legal fraternity will be able to grasp the Legend's passion for Law, Legend's ethics and mannerisms which he preached before the Court of Law, Legend's unique style of arguments and preparation technique for the cases etc. which not only made him successful in the profession of Litigation, but he came out as the SOLE RULER OF THIS PROFESSION, of his time!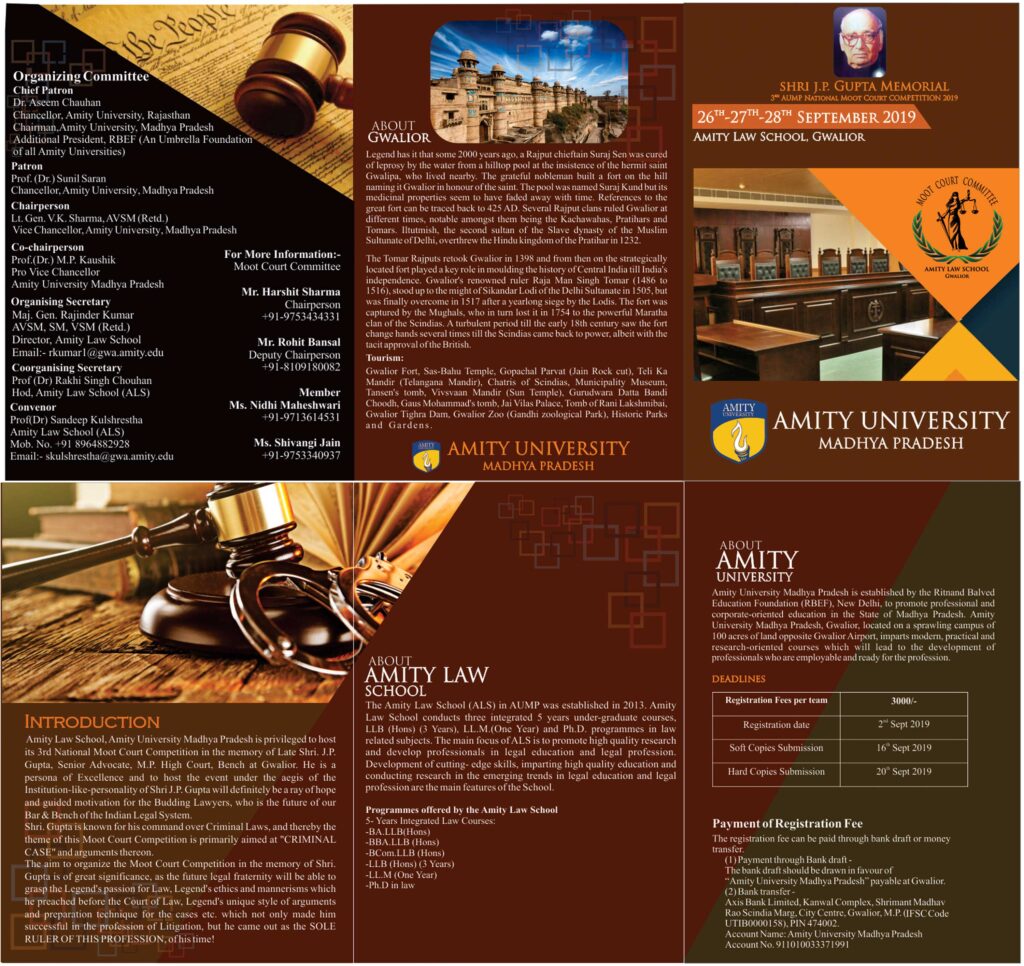 General Rules (Submission & Registration Details)
Students of three year and five-year law degree courses from any University / Law School / College / Department are eligible to apply for registration of their team. However, a maximum of one team shall be allowed to participate from any one University / Law School / College / Department. The participating team should not consist of more than three members. For the same, the selection will be made on First come First serve basis. Note:
[Provisional Registration] The interested institutions are required to make their provisional registrations because the participation is based on FIRST COME FIRST BASIS and the same shall be done as soon as possible from the date of Announcement by filling the following form and by clicking on this LINK: https://forms.gle/dpjM1FSm3zhJhrG98
[Final Registration] All participating institutions shall be registered on first come first serve basis by sending a soft copy of the properly filled registration form along with a scanned copy of a demand draft/online payment receipt and Travel/Accommodation Form via an email to aumpnmcc2019@gmail.com.
For further information, please refer to the attached documents.
DEADLINES
| | |
| --- | --- |
| Date of the Competition | 26th -28th September 2019 |
| Last date for mailing the scanned copies of the registration form and Demand Draft/online payment receipt | 02nd September 2019 |
| Last date by which the hard copy of registration form and Demand Draft should reach the organizers | 05th September 2019 |
| Last date for mailing softcopy of memorials | 16th September 2019 |
| Last date by which the 10 (5 for each side) hard copies of memorials should reach the organizers | 20th September 2019 |
The following can be contacted for clarification of any queries:
Prof. (Dr.) Sandeep Kulshrestha (Convener, Moot Court): 8964882928
Moot Court Committee:
Mr Harshit Sharma (Chairperson): 9753434331
Mr Rohit Bansal (Deputy Chairperson): 8109780082
Ms Shivangi Jain (Member): 9753340937
Ms Nidhi Maheshwari (Member): 9713614531
or you may reach us at mccalsgwalior@gmail.com
Moot Proposition Click Here
Registration Form Click Here
Rules and Regulations Click Here
Travel and Accommodation Click Here