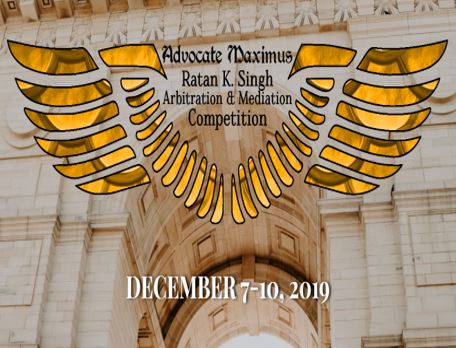 The PACT is all set to host the second edition of its Construction Arbitration and Mediation Moot Competition – Advocate Maximus 2019 (AM19) from December 7-10, 2019, in New Delhi, India. On behalf of Adv. Ratan K Singh, the patron and mentor to the competition, we officially invite you to compete in the second edition of the competition.
Advocate Maximus is unique to any other existing competition setting. Here, the participants get to assemble their 'Dream Team,' that might consist of members from the same or different universities. The screening panel would go through your applications and the teams collective CV's. The top 30 teams ranked by the panel would get to compete at the competition.
This year, the competition will be preceded by the International Conference on Construction Law and Arbitration, hosted by SCL-India and CIArb-India,which will featuring over 200 ADR professionals from around the globe. As a participants you will have the opportunity to attend in all the conference sessions on December 7, 2019, followed by a mega networking socials on December 7, which will also be the inaugural to the second edition of the competition.
Last year, we received 72 applications and 32 teams were selected to compete from India and Singapore. This year, we have already begun receiving pre-registration interests from teams from other parts of the world. Advocate Maximus is built around a unique concept where law students can create competing teams with members beyond their own law school and this diversity, we hope, will nurture a sense of inclusiveness and acceptance amongst the global legal community, as part of our mission at The PACT to breed 'Resolutionary Lawyers.'
Registration Fees
Team Composition: 4 members OR 6 Members per team
Registration fee: INR 4,000 per participant
What do winners and participants stand to gain?
Winning Team: INR 1,00,000
Runners up Team: INR 50,000
One day Participation at SCL-CIArb International Conference on Construction Law and Arbitration
One Internship each with partnering International law firms/practitioners.
ADR Literature.
Conference and training Scholarships.
2 social events to network with participants, experts and assessors
Important Dates
Last date for Registration: Round I of registrations open on June 1, 2019
The deadline to apply is August 15, 2019 at 11:59 p.m. India time. (75% of the participating teams will be selected in Round I of Registrations)
Round II of registrations closes on September 1, 2019.
Arbitration Memorial Submission: 10th November, 2019
Competition Dates: 7th December, 2019 – 10th December, 2019
Contact
For any queries, please write to advocatemaximus@gmail.comcall us on +91 9958488857 / +91 9765987280.
Rahul K Chopra, Co-ordinator (Participating Teams)
Contact – +91 9584617000
For updates, follow on Facebook and LinkedIn.
Important Links
Official website: Click here
Registration Link: Teams Registration, 2019 (Live) and send in your team CV's in a single mail to advocatemaximus@gmail.com
Competition Rulebook: Click here.
Competition Guidebook: Click here
Competition Case File (Problem): Click here
SCL-CIArb Conference Brochure: Click here