"To Learn is Human, To Quiz is Divine. So, Step up!"
Why wait then? Come celebrate the thrilling quizzing experience with us. Test your knowledge, win cool prizes, and have a great day of fun!
THE COLLEGE
Conceived on Jan 31st,1875 by the Government of the Maharaja of Travancore, Government College of Law, Thiruvananthapuram stands proud in the brilliance of a thousand legal suns. Risen from its stellar existence of over a hundred and forty two years, it has successfully carved out a golden niche in the legal fraternity of this country.
THE COMPETITION

The National Service Scheme of Govt. Law College, Thiruvananthapuram, with immense pleasure announces the 3rd GLC National Quiz Competition 'Boudhika' 2017.
DATE
24th November 2017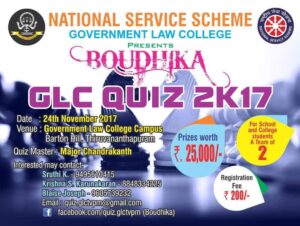 TIMING
Registration: 

9.00 am

Commencement of Quiz: 

10.00 am
VENUE
Government Law College, Barton Hill, Vanchiyoor (P.O.), Thiruvananthapuram, Kerala 695035
THEME
General (Not confined to Law)
PARTICIPATION AND ELIGIBILITY
The competition is open to students belonging to Colleges, Schools and Departments.
Each team shall comprise of two students belonging to the same institution or different institutions.
Cross College/School teams may be set up.
Valid College/School ID cards need to be carried by the students for the Quiz Competition.
Registration for the quiz can be done on the spot, at the venue.
There shall be a registration fee of  200 per team.
Participating teams can provisionally register their details to quiz.glctvpm@gmail.com specifying team composition.
GENERAL
There will be fabulous and attractive prizes for the winners.
Certificate of participation shall be awarded to all the participants.
Regarding any of the disputes pertaining to the conduct of the Competition, the decision of the Organizing Committee shall be Final.
HOST
The Quiz will be hosted by renowned quiz-master "Captain Chandrakanth".
CONTACT
Email: quiz.glctvpm@gmail.com
Facebook Page: facebook.com/quiz.glctvpm
Student Liaison:
Sruthi : 9495610415
Krishna S. Karunakaran.: 8848334225
Blaise Joseph: 9605739232
Registration Fee Click Here