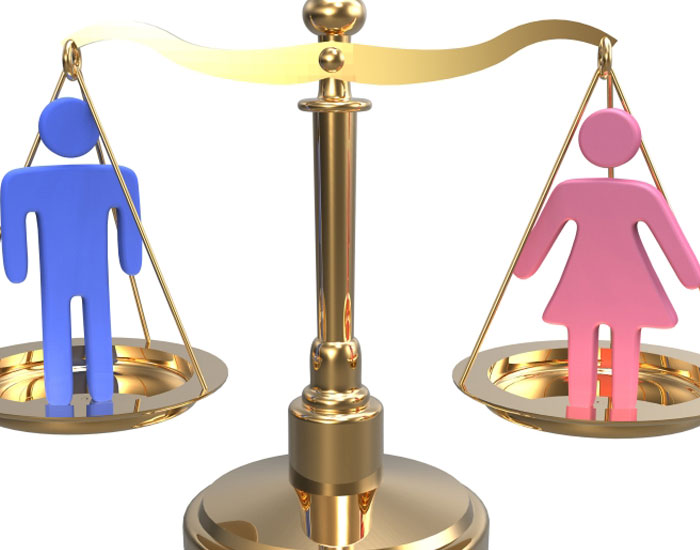 Okay. Here it is. RIGHT TO EQUALITY
Equality is something which we, the people of India, demand from the very beginning of our life, say, from the day we were born, till death. A kid, probably 3-4 years old, when given 2 chocolates and sees that her sister got 3 chocolates, starts crying and yells for why she got 3 and me just 2. That kid demands for equality in chocolates. A student demands for equality in marks. A husband and wife demands equality in their relationship. It might sound funny but we demand equality even at the time of funeral that if his funeral was so done, then why ours can't be like one! Yup, funny but true.
Right to equality states that every citizen of India is equal in the eyes of law. Says, the constitution of Indiaguarantee the right to equality to every citizen of India, prohibits discrimination on grounds of religion, caste, race and SEX. Yes, I know, you may be thinking, why "SEX" in bold letters? It is because discrimination on ground of sex is like highlight of every newspaper and television broadcasts these days.
Yes, this was the problem we suffered years back and undoubtedly we are suffering till date. It is no more right to gender equality but much more about gender inequality.
Few days back, I had an incident. There was this young, attractive girl who wore heavy makeup, had long silky hair and luscious nails. She wore a skimpy top which was riding up just enough to reveal her pretty slim belly. And then you know the rest. She was all set to be judged by people around her. We have heard a lot about women fighting and raging for equality and our constitution prevails many rights, laws and protection for them. But what about MEN? Think MEN get equal rights? What I think is absolutely 'NOT'. We talk about WOMEN, WOMEN and WOMEN, leaving MEN ignored.
There was a case of SYED AHMED MAKHDOOM, who committed suicide, tired of fighting false dowry case against him and separation from his beloved son. His wife ended him in humiliation and harassment. And this is not just one case but there have many many more cases, where the court simply gives judgement in favour of WOMEN because they are WOMEN. MEN are being victimized and accused, unwitting accomplices in the perpetuation of inequality and discrimination. They are being target of frequent undenial, in the face sexism.
Everybody is really concerned about crime against women. There are many act and provisions and laws and the list goes like- sexual harassment  of women at workplace act(2013), dowry prohibition act(1961) ….. But have we heard of rights for men, against crimes done to him?????
We have heard of many cases, of husband torturing his wife for dowry. Yes, I totally agree, there are actual cases but there many more cases of wives filing false dowry cases against husbands which are not actually revealed to the general public. Every day from somewhere or the other we come across cases of men accused for teasing women. Doesn't matter if you've done something wrong or not but you have been accused under the law. And the fact over viewed is that merely 15% of people are actually found guilty.
I have been through many videos on YouTube and the husbands have literally cried and felt so helpless and finally taken suicide, as the ultimate choice.
Section 498 of IPC, a law that was made with a very noble intention to prevent violence and cruelty against women. But today, this law has been made the most accused law in the history of Indian jurisprudence.
So, let's take a look at the brain processes that drive by us, how it shows up and most important, whether there are something we can do about it. When I went through more cases like syed's, it moved me into tears. Syed committed suicide in 2009 and till date there haven't been any new judgements in such cases and remained same as always. There may be just few cases on fingers that gave true justice to men for his rights.
I am a woman and I always stand by any wrong done against women. Any kind of women abuse or violence or discrimination is absolutely not acceptable. I know that the rights for women are very important but it does not mean that MEN remain invisible with their RIGHTS OF EQUALITY.
My only concern here is, if we say equality this, equality that, then why not equality in rights of men and women? If not so, WHAT DOES EQUALITY MEAN THEN????
IF IT IS RIGHT TO EQUALITY, IT MUST MEAN SO.
PRATIBHA ELIN LAKRA
INDORE INSTITUTE OF LAW