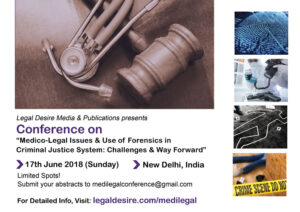 Legal Desire is organizing One Day International Conference on "Medico-Legal Issues & Use of Forensics in Criminal Justice System: Challenges & Way Forward" on 17th June 2018 (Sunday, 9 AM – 5 PM) at New Delhi.
About the Event
The Conference aims to discuss & find solutions for Medico-Legal Issues & will analyze the legislative frame with regard to the applicability of forensic science in the criminal justice system. It will be a great gathering of Judges, Doctors, Lawyers, Forensic Experts & Aspirants, Students, Govt Officials, Professionals, NGO & More.
Find the Concept Note here.
Who can participate?
Legal Desire invites research papers from professionals, students, research scholars and faculty for presentation during the Conference on the themes listed below. The Papers will also be published in Special Edition of Legal Desire International Journal on Law bearing ISSN with Letter of Publication to be presented to each presenter during the event valedictory session.
Best Paper Award will be provided to delegate with best research work.
Themes for Submission
Medico-Legal Issues
Medical Negligence
Doctors & Ethics
Dental Law & Ethics
Role of Medical/Dental/Nursing Councils
Need for safeguards for Medical professionals from frivolous medical negligence proceedings
Adequacy of law, legal issues involved, the response of judiciary and possible solution
2. Applicability of Forensic Science in Criminal Justice System in India
Forensic Medicine
Wildlife Forensics
Medico-Legal Autopsy
Fingerprints Examination
DNA Profiling
Ballistics & Explosives
Crime Scene Investigation
Forensic Anthropology
Questioned Documents
Forensic Toxicology
Forensic Biology & Serology
Forensic Chemistry
Forensic Psychology
Forensic Toxicology
Procedure for Submission of Abstracts:
Your Abstract (of about 300 words) should be sent as an attachment in a word file to [email protected]. Abstracts will be peer-reviewed before they are accepted. The following information, in the given format, should be sent along with the Abstract:
Name of the Participant
Official Designation/Institution Details
Address and Email id
Title of Abstract
Abstract
The subject line of your message should read: 'Abstract Submission for Conference on Medico-Legal & Forensics'. The selected abstracts will be notified via email including further full paper submission and registration procedure.
Guidelines for Paper Submission:
The title of the paper should be followed by Name, Designation, Name of the Organization / University / Institution and Email address. It is mandatory to mention Email address as all future correspondence will be through it.
Name and details of Co-author, if any.
The paper should be typed in MS WORD format (.doc/.docx)
The main text should be in font size 12, Normal, Times New Roman, 1.5 spacing and Justified and Heading/Sub-Heading to be Bold.
The length of the paper should not exceed 6,000 words (including footnotes). Exceeding the word limit may lead to rejection of papers.
All references must be in the form of footnotes with font size 10 and should be in any uniform pattern.
Rules for the Presenters:
No abstract or full paper shall be accepted after the last date of submission respectively.
Participants / Paper Presenters have to register after the acceptance of abstract with payment of required fees.
All Co-authors have to register separately.
Each Delegate will be given 10-12 Minutes for Presentation.
Important Dates:
Last Date for Submission of Abstract: 25th May 2018 (Limited Spots)
Full Paper Submission: 5th June 2018 [11:59 PM]
Fees:
Students: INR.1000/- or USD 35 (For Delegates outside India)
Faculty/Research Scholar: INR.1500/- or USD 50 (For Delegates outside India)
Lawyers/Professionals/Law Firms: INR.2000/- or USD 100 (For Delegates outside India)
Publication Fees (Optional): INR.500/- (Journal Hardcopy to be Provided bearing ISSN)
Note: The registration fee includes access to all day event, souvenir along with lunch and delegate kit.
Those who wish to attend the event, can register for pass at INR.1000/- or USD 35 (For Delegates outside India), Click Here
Contact Details:
For Seminar Queries & Registration, Contact:
Mahipal: +91-9818019674
Kirti: +91-7838430423
Mayuri: +91- 9555032596
Manisha: +91-9939413277
To Register for Just an Attending Pass, Click Here
Visit Conference Official Website: www.legaldesire.com/medilegal
 Click for Brochure!