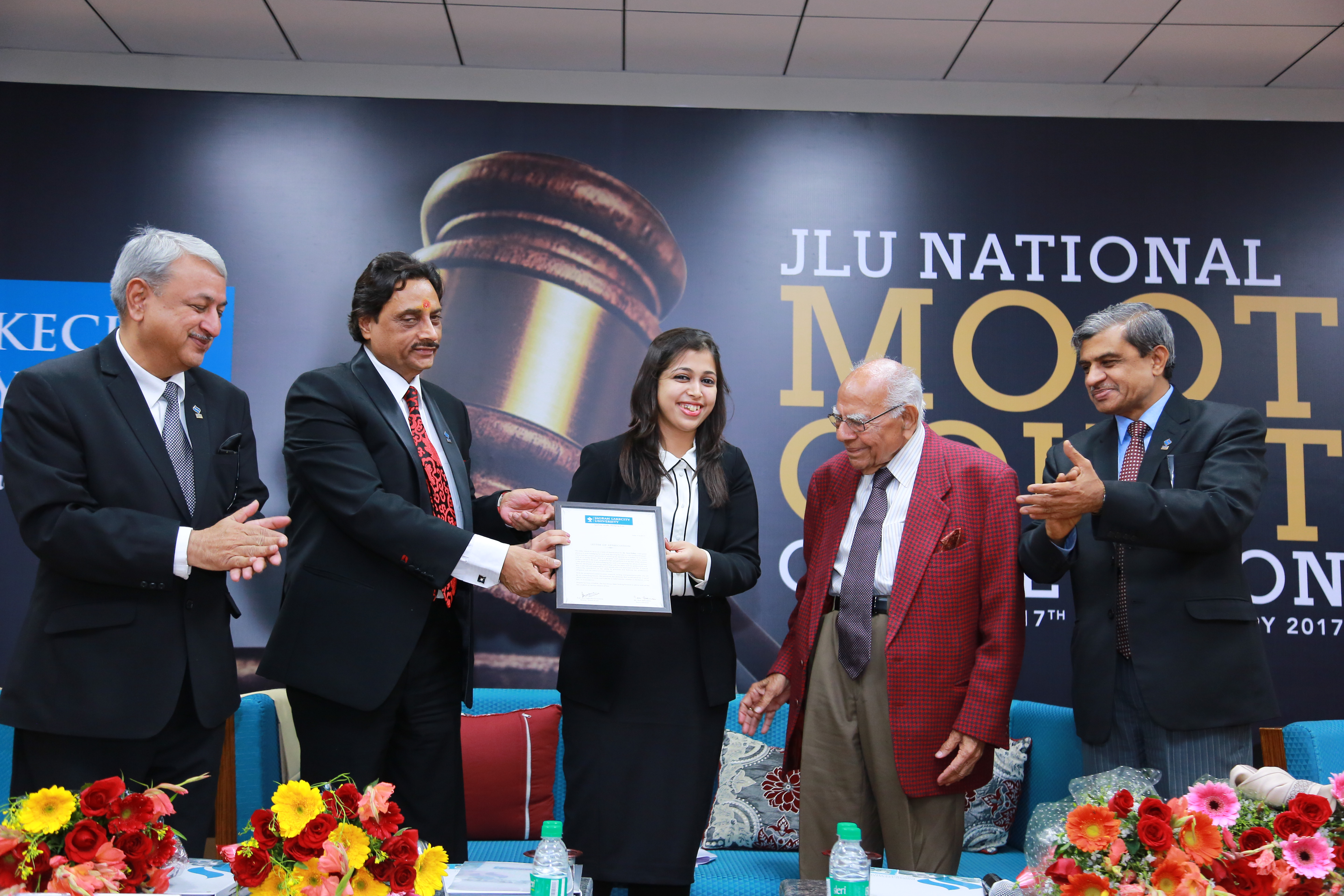 Inauguration ceremony of the JLU National Moot Court Competition
The event was inaugurated with grandeur by Mr. Ram Jethmalani, former Law Minister and senior advocate, Supreme Court of India.
He addressed the gathering and told a brief story about his life and shared some highlights of his career. He shared with them his bitter experience of the Indo-Pak partition period and his struggle of the national emergency during the reign of Indira Gandhi. He urged the students to choose litigation as a career path and also shed light on the scope and opportunities of the field. He opined that the law profession is one of dignity and honor and earning money is secondary. He also lauded the efforts of School of Law for organizing a national level competition in its nascent stage.
Chancellor, JLU Bhopal Shri Hari Mohan Gupta quoted the vision statement of the University "There's no greater divine power than knowledge" to emphasize the value of competition where bright minds compete with each other and also enrich the gathering with information. He asked students to build a competitive attitude to excel in all dimensions of the life and most importantly to accept any result as a value addition to their lifelong experience.
Prof. (Dr.) Anoop Swarup, Vice Chancellor, JLU Bhopal impressed upon the right alignment of education with practice in the industry. He explained how the exercise of Moot Court is bringing budding lawyers one step closer to their future ambition to excel in the profession of legal practice. He also suggested students to discover their real potential through testing themselves in such events where feedback is received instantly.
Various dignitaries of the University including the Chancellor, Vice Chancellor, CEO, Dean (Academics), etc. were also present at the ceremony. The welcome address was delivered by the Dean (Academics).
Mr. Jethmalani also inked a Memorandum of Understanding with JLU to establish JLUCCLCJ i.e. Jagran Lakecity University Chair of Criminal Law and Criminal Justice.
The vote of thanks was delivered by Associate Professor of the School, Dr. Shobha Bhardwaj.