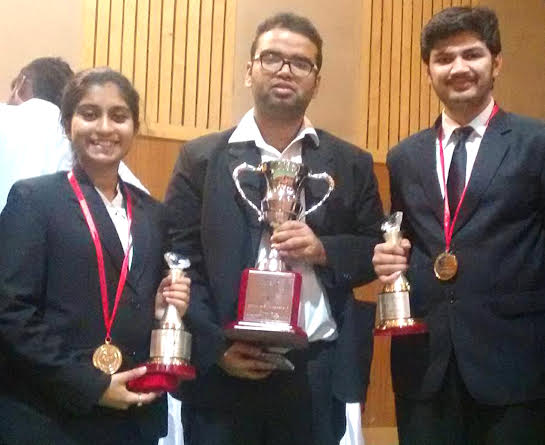 The 33rd Bar Council of India Moot Court Competition -2017 trophy has finally come to KIIT School of Law after much awaited period of 4 years. Congratulations to the team comprising of MOHIT RAI, SAUNAK RAJGURU AND SOMABHA BANDOPADHYAY.
With this School of Law, KIIT University have made a clean sweep of the 33rd Bar Council of India Moot Court Competition-2017. BCI's All India Inter University Moot Court Competition is the most prestigious and awaited national level students' academic event of its kind, attracting participation from all reputed law institutions, including National Law Schools, across the country. It is remarkable that KIIT School of Law has won this prestigious competition twice in four years.
Four years ago, in 2013, KIIT University created history by becoming the first Private University to win the prestigious Bar Council of India (BCI) National Moot Court Competition. History has repeated itself as KIIT School of Law defeated one of the most reputed National Law Schools, NALSAR, Hyderabad in the finals of 33rd Bar Council of India National Moot Court Competition, held at ICFAI Law School, Hyderabad on April 2, 2017.
Established in 2007, KIIT School of Law has emerged as a leading law school of the country, at par with National Law Schools, offering Integrated BA.LL.B, BBA.LL.B and BSc.LL.B. It is well-known for its world-class infrastructure, well-stacked library and excellent moot court facility, besides high quality faculty and teaching.
KIIT team comprised of Mr. Saunak Rajguru (Speaker, Third Year), Ms. Somabha Bandopadhyay (Speaker, Fourth Year) and Mr. Mohit Rai (Researcher, Fourth Year). They were assisted by a research team consisting of: Mr. Shivam Pandey, Ms. Madhurika Ray, Mr. Akanshit Jha, Mr. Amardeep, Mr. Abhishek Kumar, Mr. Subham Bhut and Mr. Kautilya Birat.
Ms. Bandopadhyay and Mr. Rajguru won the 'Best Overall Female Speaker' and 'Best Overall Male Speaker' award respectively. In addition, she was adjudged 'Best Speaker (Fourth Round)', while Mr. Rajguru bagged 'Best Speaker (Third Round)'. KIIT Team also won 'Best Memorial' award in the Third Round.
The final results are:
Best memorial  3rd Round.
Best speaker 3rd round = Saunak Rajguru.
Best speaker 4th round = Somabha Bandopadhyay
Best overall female speaker = Somabha Bandopadhyay
Best overall male speaker = Saunak Rajguru