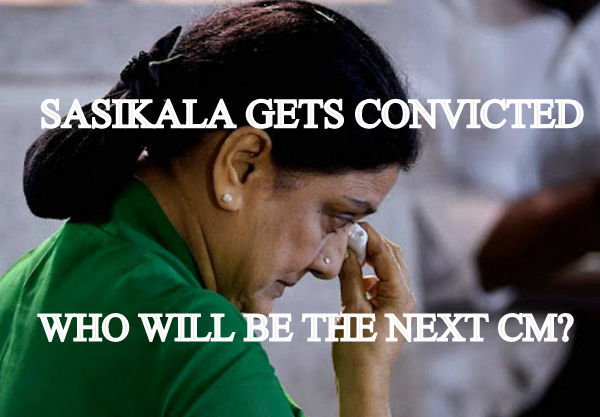 The Supreme Court on Tuesday set aside AIADMK general secretary V.K. Sasikala's acquittal by the Karnataka High Court in the Jayalalithaa disproportionate assets case and "restored in full" the trial court conviction of September 2014.
A Bench of Justices P.C. Ghose and Amitava Roy also set aside the acquittal of her two co-accused J. Ilavarasi and V.N. Sudhakaran and restored their conviction in the case. The SC said the appeals filed by Karnataka government and others, including DMK leader K. Anbazhagan, against the former Chief Minister has abated after her death on December 5, 2016.
Conviction and sentence against A-2 to A-4 (VK Sasikala, Ilavarasi & Sudhakaran) restored in full with all consequent directions. Since A-1 (Jayalalithaa) has expired, the appeals against her stands abated. Justice Ghose wrote a separate but concurring judgment. Sasikala, Ilavarasi and Sudhakaran have to surrender before trial court forthwith. VK Sasikala sentenced to four years imprisonment by trial court.
She has to serve rest of her jail sentence of three years and six months as she has already served almost six months in jail. VK Sasikala cannot contest elections for the next 6 years Even after Sasikala comes out after serving her four-year sentence, she would be disqualified to contest elections for the next six years as per the Supreme Court judgment in Lily Thomas versus Union of India of July 2013.The Court was delivering their verdict on appeals filed by Karnataka Government against the May 11, 2015 acquittal of then Tamil Nadu Chief Minister Jayalalithaa her then aide N Sasikala and two others in  a 21-year-old disproportionate assets case by the Karnataka High Court.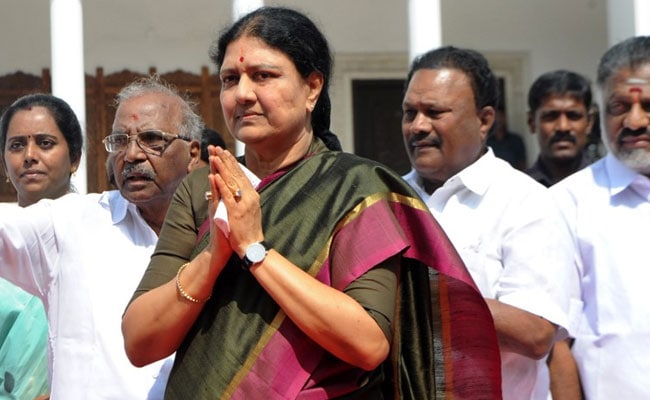 Conviction and Fine to the Accused
The trial court had sentenced Sasikala, Ilavarasi and Sudhakaran under Section 109 IPC read with Section 13 (2) of the Prevention of Corruption Act — abetment of criminal misconduct of a public servant — to simple imprisonment for a period of four years each and pay a fine of Rs. 10 crore each. In case of default, they would have to further suffer imprisonment for another year.
For the offence of criminal conspiracy leading to criminal misconduct of a public servant (Section 120 (B) IPC read with Section 13 (2)) of the Prevention of Corruption Act, all three were sentenced to simple imprisonment for six months and a fine of Rs. 10,000 each.
Special Judge John Michael Cunha had ordered the attachment properties held by Indo-Doha Chemicals and Pharmaceuticals Pvt Ltd., Signora Enterprises Pvt. Ltd., Ramraj Agro Mills Ltd., Meadow Agro Farms, Riverway Agro Products.
The prosecution had alleged that these companies were operating "for and on behalf of Ms. Jayalalithaa". "In essence, these companies were used as receptacles of ill-gotten cash for which no explanation was given during investigation nor during the trial. Such cash becomes the basis for large scale property being purchased where all negotiations were done at the house of A-1 (Ms. Jayalalithaa)," senior advocate Sidharth Luthra, appearing for Karnataka had submitted.
Grounds on which Karnataka government had challenged the Justice C.R. Kumaraswamy Judgment before the Supreme Court-
Valuation of buildings spread across 1,66,839.68 sq. feet: After PWD valuation and 20% deduction, Trial Court fixes total cost at Rs. 22,53,92,344. Karnataka High Court re-evaluates the cost of construction of the buildings and arrives at total cost of Rs. 5,10,54,060. Compares cost of construction of "posh and palatial multi-storied buildings" to construction of a PWD "shanty shed". The total cost of Rs. 5.10 crore arrived at by the HC is even less than what the accused persons themselves admitted is the cost, Rs. 8,60,59,261.
Marriage expenditure of co-accused and "foster son" V.N. Sudhakaran: Prosecution calculated expenses at Rs. 6,45,04,222; Trial Court arrives at sum of Rs. 3,00,00,000. Karnataka High Court reduces to "paltry sum" of Rs. 28.68 lakh solely on the basis of Ms. Jayalalithaa's IT statement.
Loans as income: Karnataka government says the 'most serious and glaring infirmity' in the judgment delivered by Justice C.R. Kumaraswamy is in the matter of considering loans as income. DVAC found value of loans borrowed by the accused is Rs. 5,99,85,274.
Karnataka High Court judgment holds DVAC ignored 10 items of loans borrowed from nationalised banks valued at Rs. 24,17,31,274. Karnataka government exposes "mathematical error" in the HC judgment. Says totalling of all 10 loans comes to only Rs. 10.67 crore and not Rs. 24.17 crore.
DA is 76.7 pc of income and not 8.12 pc: Karnataka government's calculations in the petition is Rs. 37,59,02,466 (total assets) subtracted by Rs. 21,26,65,654 (total income) is equal to Rs. 16,32,36,812.
How Karnataka government calculates the percentage of disproportionate assets: The value of 16,32,36,812 (disproportionate assets) multiplied by 100, the value of which is divided by Rs.21,26,65,654 (total income) is equal to 76.7 percent.
Income from grape garden: Prosecution computes total agricultural income from grape garden at Hyderabad as Rs. 5,78,340. Ms. Jayalalithaa computes income from the property as Rs. 52,50,000, The Trial Court computes the income as Rs. 10,00,000 and Karnataka HC judgment computes the income as Rs. 46,71,600
Gifts as income: Karnataka HC treats gifts worth Rs. 1.5 crore received by Ms. Jayalalithaa on her 44th birthday as her "lawful income".
The petition filed by the Karnataka government   argues that a CBI case on this issue is pending before the Supreme Court and the accused failed to bring this fact to the HC judge's notice. Further, this petition contends that any gift received as a lawful source of income should be intimated to the authorities as per law Prevention of Corruption Act.
Income of SASI Enterprises: Trial Court rejected plea by accused that SASI Enterprises (a partnership firm between Ms. Jayalalithaa and A-2 N. Sasikala Natarjan) had a rental income of Rs. 12,60,800 and only Rs. 6,15,900 was taken into consideration by the prosecution. The Karnataka HC judgment arrives at an "abstract figure" of Rs. 25,00,000 on "guess work", Karnataka petition contends.
Income of Jaya Publications and "theory of Namadhu MGR": When accused said total business income from Jaya Publications is Rs. 1.15 crore, the HC judgment raises it inexplicably to Rs. 4 crore by "erroneously treating the total amount of turnover as net profit". HC judgment further rejects Trial Court conclusion that the evidence regarding Namadhu MGR scheme is "false" and "fabricated".
Income of Super Duper TV Pvt Ltd: A-3 and company proprietor, V.N. Sudhakaran, claimed the company made a "legitimate income" of Rs. 1.10 crore during the check period. Trial Court rejects the claim and the Karnataka HC sets aside the trial court finding, "unilaterally assesses" income as Rs. 1,00,00,000.
Assets: Trial Court records 146 sales of immovable properties, making net worth from real estate sales to nearly Rs. 20 crore. Karnataka HC for no reason, ignores 49 of the 146 sales and reduces total value of sale proceeds to Rs. 6,24,09,120.
The Karnataka high court on 11 May 2015 overruled the conviction, allowing Jayalalithaa to return as chief minister. The high court cited an error in computing the disproportionate assets and said they did not exceed the 10% of the stated income limit which warrants conviction.
The bitter argument in the Court Room
The SC bench had also asked Karnataka to prove that the source of money was Jayalalithaa and asked the prosecution to show evidence to the extent that the source of money was illegal. Karnataka had also requested confiscation of the immovable properties allegedly held by the four accused. In this regard, the trial court verdict had dealt with the assets of six companies allegedly attributed to the four accused.
Luthra submitted that unexplained/unaccounted cash inflows started when the co-accused of Jayalalithaa took over as additional additional directors of the companies without buying any shares. In his reply, senior advocate Harin Raval for Jayalalithaa questioned Karnataka's locus standi to file an appeal against the High Court judgment setting aside the attachment of the companies' assets.
Senior Advocate B.V. Acharya, who served as Special Public Prosecutor and Special Counsel in the disproportionate assets case involving former Chief Minister Jayalalithaa and AIADMK general secretary V.K. Sasikala, said that this Supreme Court verdict is a message to those persons involved in corruption.
 Brief Timeline of the Disproportionate Assets Case
| | |
| --- | --- |
| DATES | EVENTS |
| June 14, 1996 | Subramanian Swamy filed a case against Jayalalithaa's acquisition of wealth. |
| June 18, 1996 | The DMK led government filed an FIR against the former Chief Minister. |
| June 4, 1997 | Chargesheet filed against Jayalalithaa, Sasikala, Ilavarasi and Sudhakaran. |
| May 14, 2001 | Jayalalithaa-led AIADMK was voted back to power in Tamil Nadu. |
| February 28, 2003 | A special appeal to the Supreme Court is filed by the DMK to shift the case outside Tamil Nadu for fairer proceedings. |
| November 18, 2003 | The Supreme Court directed the case to be transferred to Bangalore. |
| March 2005 | The trial started in Bangalore. |
| September 27, 2014 | The court convicted Jayalalithaa, Sasikala and the others under charges of illegal property acquisition. All of them were lodged in the Parappana Agrahara central jail in Bangalore. |
| September 29, 2014 | Jayalalithaa filed a bail plea in the Karnataka High Court. |
| October 7, 2014 | The Karnataka High Court rejected the bail plea. |
| October 17, 2014 | Supreme Court granted bail to Jayalalithaa |
| May 11, 2015 | Karnataka Government appealed against the acquittal of Jayalalithaa to the Supreme Court. |
| May 23, 2016 | Jayalalithaa came back to power as chief minister again. |
| December 5, 2016 | Jayalalithaa passed away. |
| February 14, 2017 | Sasikala convicted by the Supreme Court. |
By:
Pareesh Virmani