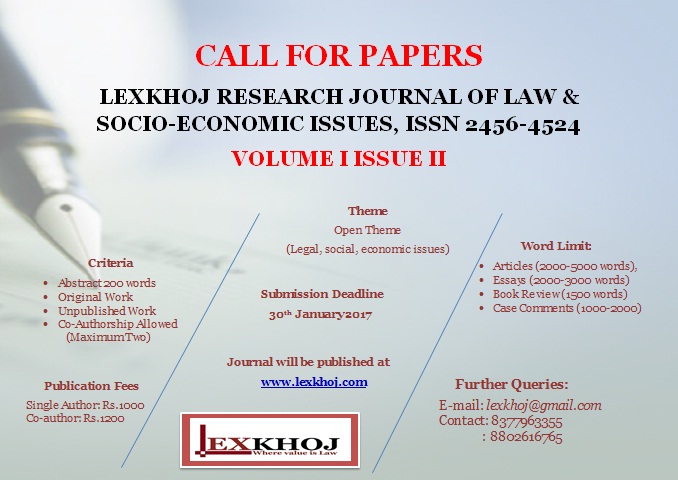 ABOUT THE JOURNAL
Lexkhoj Research Journal of Law and Socio-Economic Issues is An open access peer reviewed
international journal, publishing critical approaches to socio-legal study and multi-disciplinary
analysis of issues related to law and socio-economic. The journal will strive to combine
academic excellence with professional relevance and a practical focus by publishing wide
varieties of research papers, insightful reviews, essays and articles by students, established
scholars and professionals as well as by both domestic and international authors.
Lexkhoj Publication is committed to bring the highest quality research to the widest possible
audience through an unparalleled commitment to quality and reliability. We accept legal
Articles, Research papers, Book reviews, Case Comments and many more. It is the ethos that
the journal tries to capture and bring to its discerning readers the submission for its II Issue
which is a 'Quarterly Journal' strives to achieve high level of legal scholarship and research.
ELIGIBILITY
"Are you a change maker then there is no need of concerned as an issue of eligibility'' let
people know your eligibility by your own work.
We invite contributions from students, academicians, professionals, policy makers, regulators,
think-tanks and researchers around the world.
THEME
Submissions which deal with any aspect of Legal, Social & Economic Issues will be
considered for publication.
GUIDELINES FOR SUBMISSION
All submissions must adhere to the following guidelines:
1. Cover Letter: The first page should include the following:
(i) Title of the Paper
(ii) Name of the Author/s ;Co-authored papers should give full details about all the
authors; Maximum two author permitted
(iii) Designation
(iv) Institutional affiliation
(v) Correspondence address. In case of co-authored papers First author will be
considered for all communication purposes.
All submissions should be accompanied by an abstract of about 200 words outlining the
Central argument(s) of the paper.
2. Word limit:
 Articles (2000-5000 words),
 Essays (2000 words),
 Case Comments (1000-2000 words) and
 Book Review (1500 words).
3. All submissions must be 1.5 lines spaced in Times New Roman, font size 12 and
justified. All submissions have to be in any Uniform citation style.
4. Only footnotes may be used as the form of citations. All footnotes must be in Times New
Roman, size 10, single-spacing and justified.
5. The submissions must not infringe copyright or any other rights of any third parties.
6. Electronic submissions via email should be made in Word Format (.doc) or (.docx).
7. The research paper shall be original and unpublished work.
8. The paper should not be plagiarized, and free from grammatical, spelling and other
errors.
9.  Bibliographies or reference lists are welcome, but not necessary
CO-AUTHORSHIP OF PAPERS
Co-authoring of papers between individuals of the same or different institutions is permissible.
The maximum no. of authors per submission is two.
PUBLICATION
The journal will be published at www.lexkhoj.com
PUBLICATION FEES-
 Single Author (Rs. 1000),
 Co-author (Rs. 1200).
The account Details will be sent to those authors whose papers will be selected.
DEADLINE
The authors are to submit their manuscripts by, 30th January 2017.
Manuscripts received after 30th January shall be considered for the next issue.
SUBMISSION PROCEDURE
Submissions should be emailed to us at lexkhoj@gmail.com
CONTACT
For further information or clarifications, you may also write to us at lexkhoj@gmail.com
Name – YOGITA LOHIA
Phone: 8377963355
Email: yogi7758@gmail.com
Facebook page: https://www.facebook.com/lexkhoj/
Website: http://lexkhoj.com/